After Santana exits, Indians get to bullpen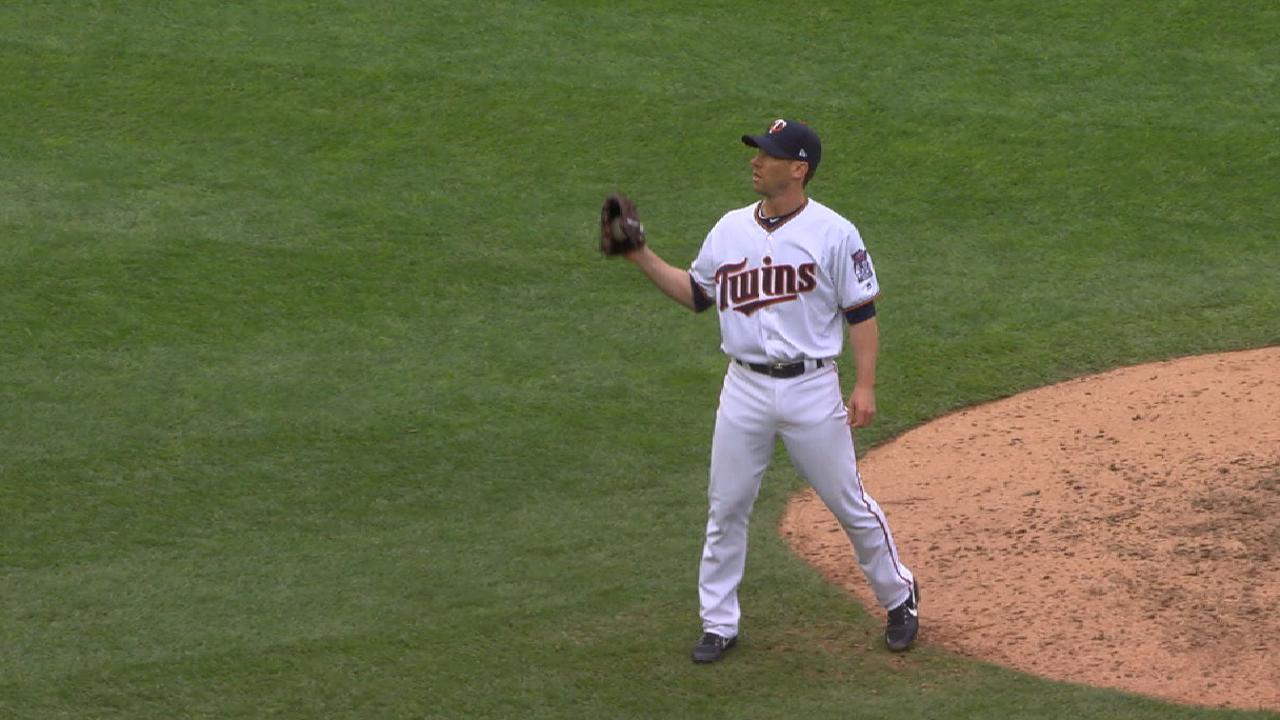 MINNEAPOLIS -- After limiting the Indians to one run over six innings on Thursday, Twins right-hander Ervin Santana was in line to become the first pitcher in the Majors to reach four wins, to go along with his 0.64 ERA.
But the bullpen couldn't hold a one-run lead in the seventh, with three relievers combining to allow three runs in an eventual 6-2 loss at Target Field. Some of it was simply bad luck -- with Yandy Diaz reaching on a comebacker off right-hander Tyler Duffey's leg and Roberto Perez reaching on an infield single that had an exit velocity of 54.3 mph -- but it also came down to execution with Taylor Rogers allowing the game-tying RBI single to Carlos Santana before the Twins walked two runners home after an intentional walk to Francisco Lindor.
"We didn't contain there at the end," Twins manager Paul Molitor said. "When you get a lead late, you want to try to find a way to win it. They got the comebacker off Duffey and the swinging bunt. Rogers came in and was pitching well but Santana turned on one and it kind of changed the game."
Duffey entered having thrown 8 2/3 scoreless innings, but was removed after the tough-luck singles, as they had hit percentages of only 30 percent and two percent, respectively, according to Statcast™.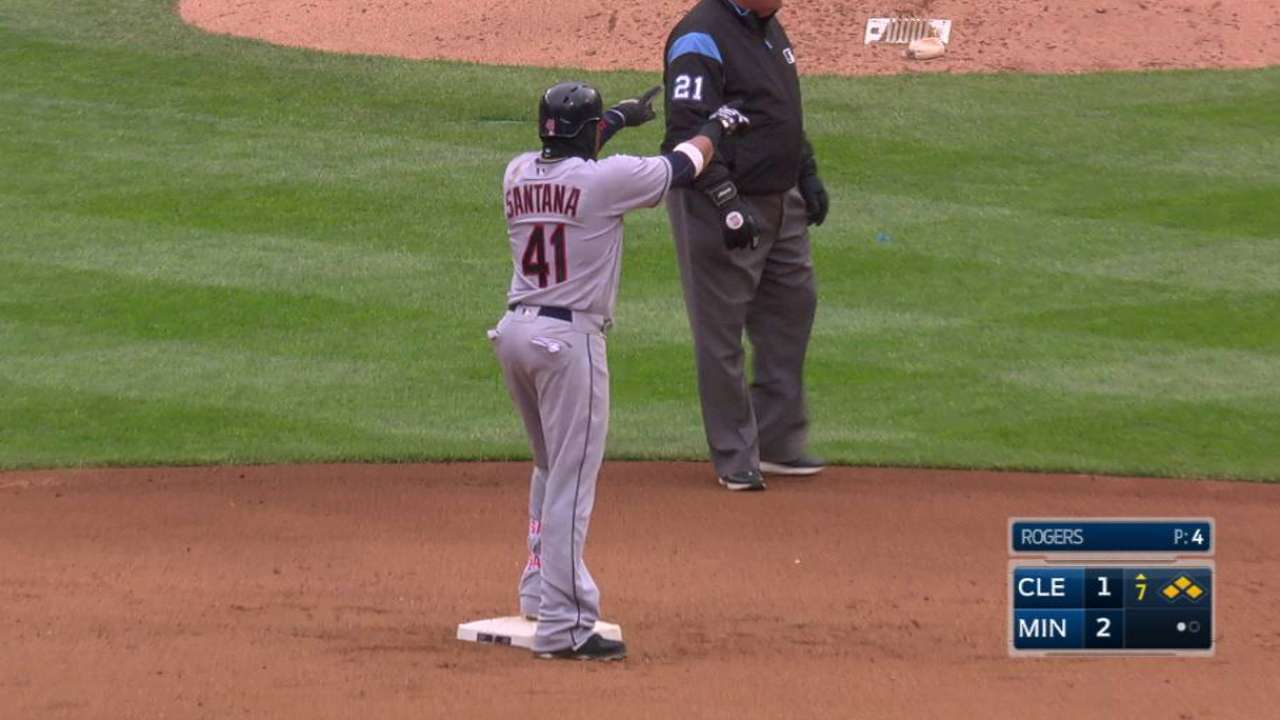 Rogers also entered with a 0.00 ERA in three innings, but fell behind Santana, 2-1, and threw a four-seam fastball that caught too much of the plate that he laced for his second RBI double of the game. Molitor said he went with Rogers over Duffey because he wanted to turn around the switch-hitting Santana before getting to lefties Lindor and Michael Brantley.
"It's a little tough," Santana admitted about being turned around. "But that's why I go to the cage and do something on both sides. Hitting is complicated, but I try to do what I can do."
After the RBI double, the Twins opted to intentionally walk Lindor, but it didn't work out, as Rogers got ahead of Brantley, 0-2, but walked him in seven pitches, as he laid off inside fastballs to draw the go-ahead walk with the bases loaded.
"He's pretty good with fastballs away so we wanted to stick with fastballs in and curveballs," Rogers said. "After the second curveball, he seemed prepared for it, so I kept going in. It was wide-open but I just couldn't get it in there. I just couldn't catch the corner. Next time, I need to execute my fastball in."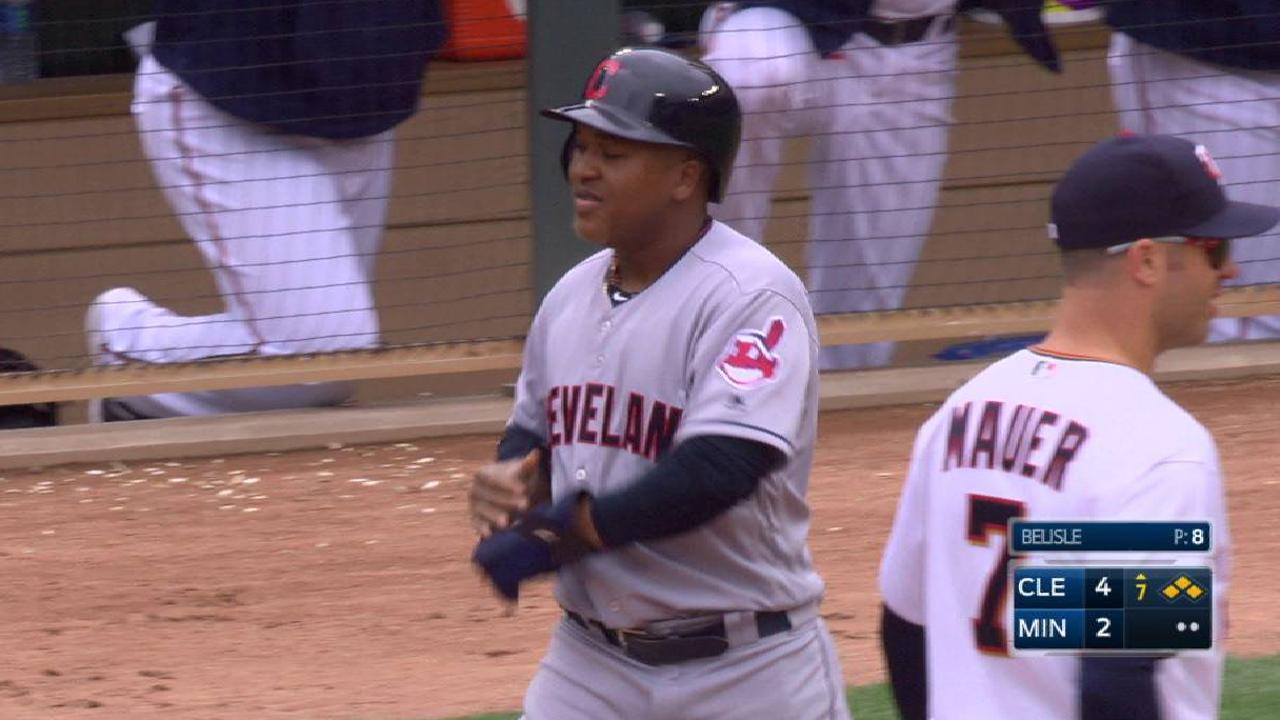 Right-hander Matt Belisle relieved Rogers, and walked Jose Ramirez with two outs to bring in an insurance run. But Molitor said he believed the intentional walk was the right decision at the time.
"Rogers is a strike-thrower," Molitor explained. "He got ahead of Brantley 0-2 and kept trying to pound him in. He fouled off one breaking ball in the sequence after he got ahead. He made some close pitches. Certainly when you load the bases after an intentional walk, there's always that risk."
Rhett Bollinger has covered the Twins for MLB.com since 2011. Read his blog, Bollinger Beat, follow him on Twitter @RhettBollinger and listen to his podcast. This story was not subject to the approval of Major League Baseball or its clubs.