Inbox: Is Berrios here to stay?
Beat reporter Rhett Bollinger answers Twins fans' questions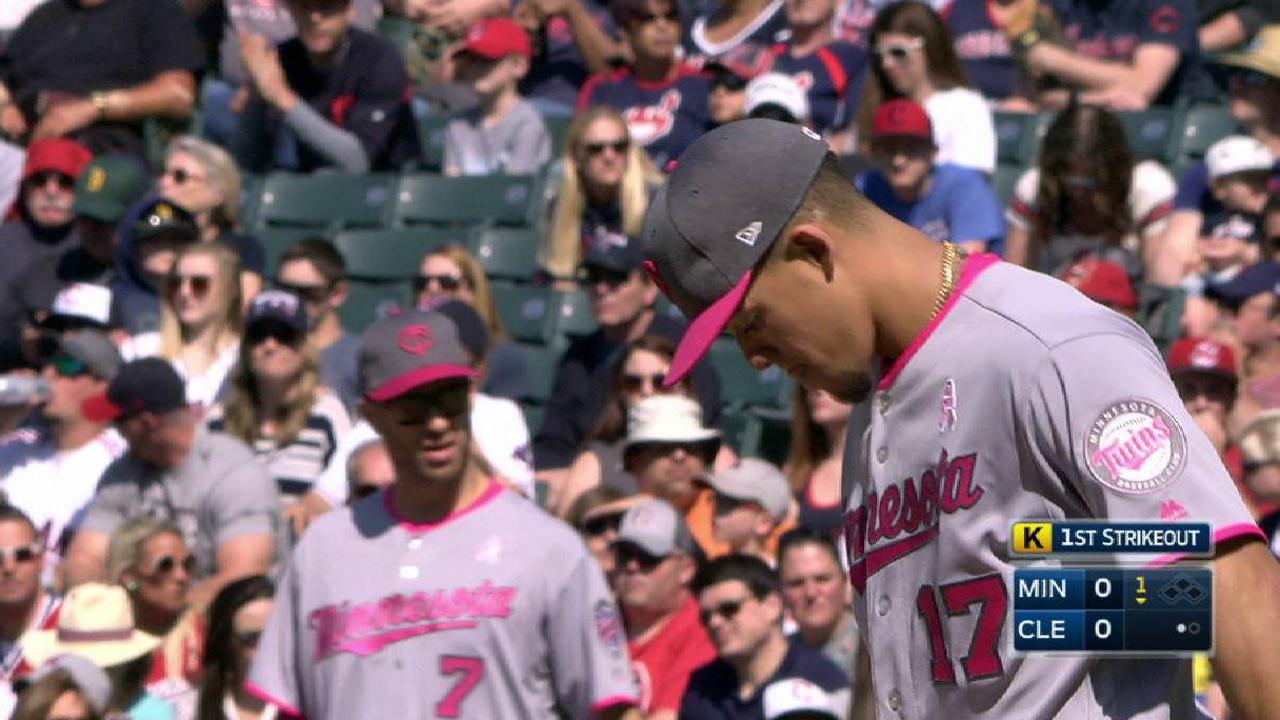 It's mid-May and the Twins are surprisingly in first place in the American League Central thanks to another strong road trip, having won four out of five against the White Sox and Indians.
Minnesota has been carried by its offense and a much-improved defense, but there are still questions about the pitching staff. With that in mind, here's this week's Inbox:
@RhettBollinger how important is Berrios' success to the twins club? Having 1-3 solid pitchers + decent 4 in Hughes.Also searching for a 5?

— Will Peterson (@WillyJP1535) May 14, 2017
It was just one start, but the Twins have to be excited about the way Jose Berrios looked against the Indians on Saturday. Berrios looked much more like a former top prospect than the pitcher who had an 8.02 ERA in 14 starts as a rookie last year.
Berrios went 7 2/3 innings, allowing one just one run on two hits, but more importantly, he showed much better command than last year. He walked one and threw first-pitch strikes to 17 of the 27 batters he faced.
If Berrios can lock down a position in the rotation, it would go a long way toward fixing an issue for Minnesota, which has lacked rotation depth this season past Ervin Santana, Hector Santiago and Phil Hughes.
The Twins still need a fifth starter for Saturday's game against the Royals, and right-hander Kyle Gibson is a top candidate to reclaim his spot, but lefty Adalberto Mejia will also be considered.
@RhettBollinger When can we expect to see some the young relievers with velo from the minors?

— Doug Munson (@TwinsWild16) May 14, 2017
The Twins have some intriguing hard-throwing relievers in the Minors, such as J.T. Chargois, Nick Burdi, Mason Melotakis, John Curtiss and Luke Bard. Encouragingly, Burdi, Melotakis, Curtiss and Bard have put up dominant numbers at Double-A Chattanooga, and chief baseball officer Derek Falvey said last week that promotions to Triple-A Rochester could be coming soon.
• Submit a question to the Twins Inbox
Chargois is currently rehabbing in Florida after hitting the disabled list with elbow impingement, but he should rejoin Rochester soon, where Trevor Hildenberger is another arm to keep an eye on. So Minnesota does have some relief options in the Minors, but nothing appears imminent.
@RhettBollinger Update on Stephen Gonsalves

— Carter Nelsen (@carter_nelsen) May 14, 2017
Stephen Gonsalves, ranked as the No. 83 overall prospect by MLBPipeline.com, threw four innings in an extended spring camp game last week as he recovers from shoulder soreness. He'll make one more start in Florida before joining Double-A Chattanooga's rotation.
@RhettBollinger What is the current situation of Park? #MNTwins

— Brett Eilts (@BEilts83) May 15, 2017
ByungHo Park is healthy at Triple-A Rochester, but he hasn't hit much since returning from the DL after missing a month with a right hamstring strain. Park is 1-for-17 with a homer in four games since returning on Wednesday.
@RhettBollinger Who's the biggest clubhouse leader?

— Ben Richter (@brichtergustie) May 14, 2017
Joe Mauer is still universally respected in the clubhouse, and he has been more vocal behind the scenes, while Brian Dozier has continued to emerge as a leader. Veterans Matt Belisle and Craig Breslow have also brought leadership to the club.
@RhettBollinger Does this young Twins team put more pressure on themselves to perform at home and more relaxed on the road?

— Doug Doescher (@DsrdDoescher) May 15, 2017
The Twins are tied for the best road record in baseball at 11-5, yet they're 8-10 at home. It's probably a little bit too simplistic to suggest it's because they're more relaxed on the road. If it becomes a season-long trend, then it's more worth looking into, but for now, it's more likely statistical noise.
@RhettBollinger About a month and a half into the season, how do ticket sales numbers look compared to rest of league? #Moneyfirst

— Berger Financial (@Bergerfingroup) May 15, 2017
Minnesota is averaging 22,715 tickets sold per game this year, which ranks 24th in the Majors. Last year, the Twins ranked 23rd, averaging 24,245, and attendance should go up as the season goes along, thanks to better weather and a solid start to the year.
Rhett Bollinger has covered the Twins for MLB.com since 2011. Follow him on Twitter @RhettBollinger and listen to his podcast. This story was not subject to the approval of Major League Baseball or its clubs.