Buxton's renewed approach paying off at plate
Twins center fielder hits second home run in loss to Rockies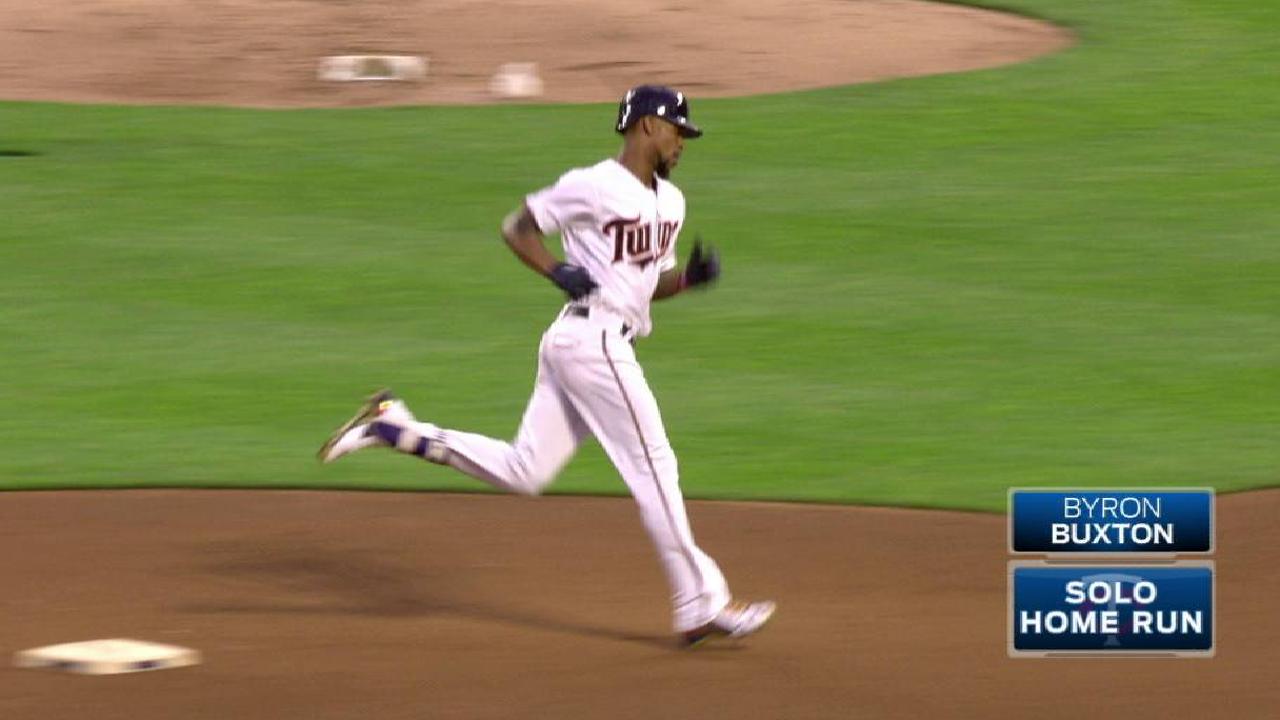 MINNEAPOLIS -- Before Tuesday's game against the Rockies, Twins center fielder Byron Buxton approached manager Paul Molitor and told him he thought he was getting too pull-happy again at the plate, which was an issue for him during his early-season slump.
So Buxton worked to correct that during batting practice, trying to let the ball travel deeper into the strike zone before reacting, instead of trying to pull everything to left field. It paid immediate dividends, as he crushed a solo homer to dead center field off Rockies left-hander Kyle Freeland in the fourth inning of the Twins' 7-3 loss.
The homer, which left the bat at 102.7 mph and traveled a projected 424 feet per Statcast™, also extended the Twins' streak to 16 straight games with a homer, tying a franchise record set in 1979. But just as importantly, it was another sign that Buxton is starting to come around offensively.
"Wherever the pitch is at, that's where you want to hit it," Buxton said. "During BP, I tried to work back up the middle. I wanted to keep my hands back and let the ball travel a little bit more."
Buxton's second homer of the year was also just the second allowed by Freeland this year, snapping a streak of 34 innings without a homer. The game-tying shot came on a 2-1 fastball on the outer half of the plate.
"We talked a little bit today about going back to the things that he had worked on prior to swinging the bat better," Molitor said. "He said he was getting a little bit pull conscious and wanted to slow it down. He got a pitch out over [the plate] and instead of yanking it, he stayed out over the middle of the field. You try to build on the positives."
It was Buxton's only hit, as he went 1-for-3 with a sacrifice bunt that he admitted was poorly placed, but he is hitting better over his last 15 games, which coincides with a pregame session with hitting coach James Rowson, Torii Hunter and Molitor on April 22. They helped him with his swing to drive the ball more up the middle, while also working to ease the anxiety he felt early in the year at the plate.
Since that meeting, he's hitting .261 with two homers, a double, a triple and seven walks compared to 12 strikeouts. There have still been some at-bats where he looked overmatched, including a strikeout in the ninth against Rockies left-handed reliever Jake McGee, but mentally he's in a better place, and the results are starting to come with better habits at the plate.
"I'm getting more back to myself," Buxton said. "The game is starting to slow down for me a little bit day by day. It comes with me going out there and not worrying about things and having fun. Just being aggressive, but staying relaxed. Like whatever happens, happens. You can't control what happens after you hit."
Rhett Bollinger has covered the Twins for MLB.com since 2011. Follow him on Twitter @RhettBollinger and listen to his podcast. This story was not subject to the approval of Major League Baseball or its clubs.