Twins overcome six-run deficit to beat O's
MINNEAPOLIS -- The Twins overcame an early six-run deficit with a two-run fourth inning and a five-run fifth, keyed by a game-tying two-run double from Kennys Vargas and a go-ahead RBI single from Chris Gimenez in a 9-6 win over the Orioles on Friday night at Target Field.
Orioles right-hander Kevin Gausman was spotted an early lead, as Seth Smith and Manny Machado opened the game with back-to-back homers off rookie Felix Jorge. Machado added a three-run homer as part of a four-run third, and went 4-for-5 at the plate.
"We lost, so it doesn't matter," Machado said. "A day like this is not a good day, it was a bad day. Yeah, I hit two homers and drove in a couple runs, but at the end of the day, it's all about wins."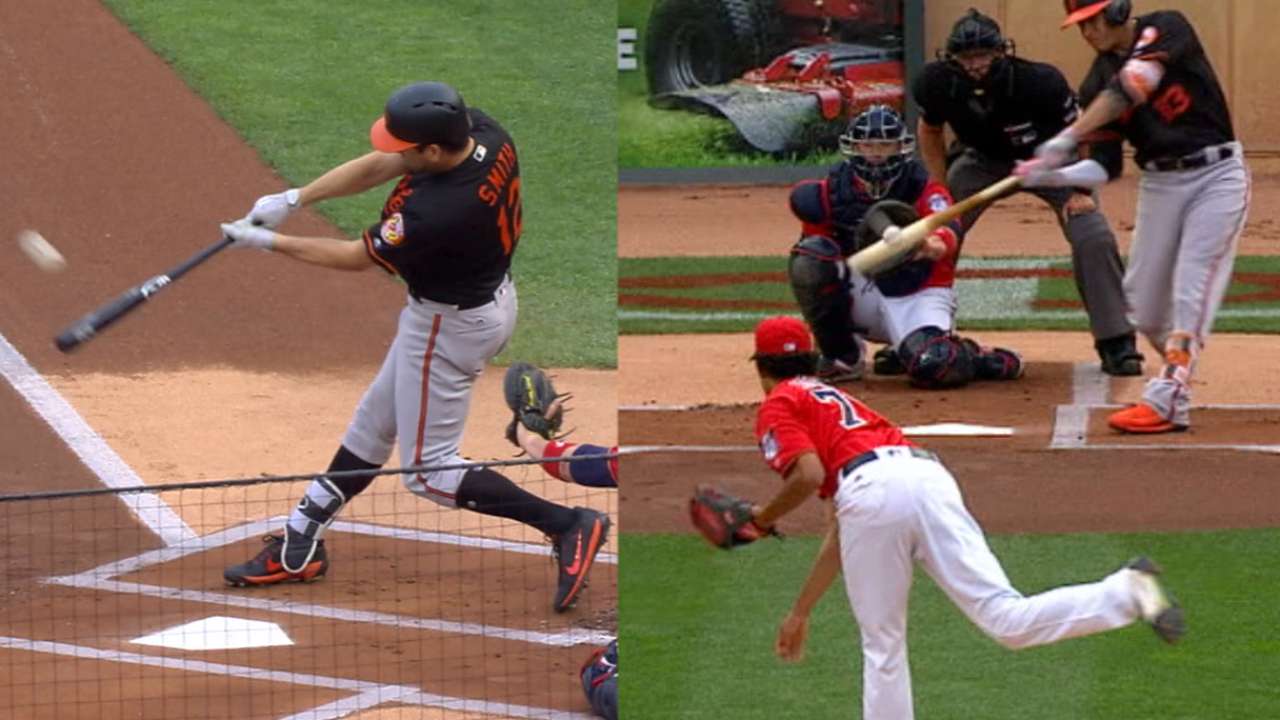 The Twins began chipping away, scoring twice in the fourth after four straight hits from Miguel Sano, Max Kepler, Vargas and Eddie Rosario before Gimenez was plunked with the bases loaded. They then broke through in the fifth with an RBI double from Robbie Grossman, an RBI single from Kepler, Vargas' two-run double and Gimenez's RBI single. Byron Buxton helped add two insurance runs in the eighth against Zach Britton with a two-out RBI single before showcasing his speed by scoring on a single to left-center from Brian Dozier. He reached a max speed of 30.6 feet per second, per Statcast™.
The win was made possible by Minnesota's bullpen, which tossed 6 1/3 scoreless innings after Jorge departed, having given up six runs on seven hits over 2 2/3 innings. Rookie Trevor Hildenberger threw 2 1/3 scoreless frames to get the win, while Brandon Kintzler recorded his American League-leading 24th save on the same day he was named an All-Star.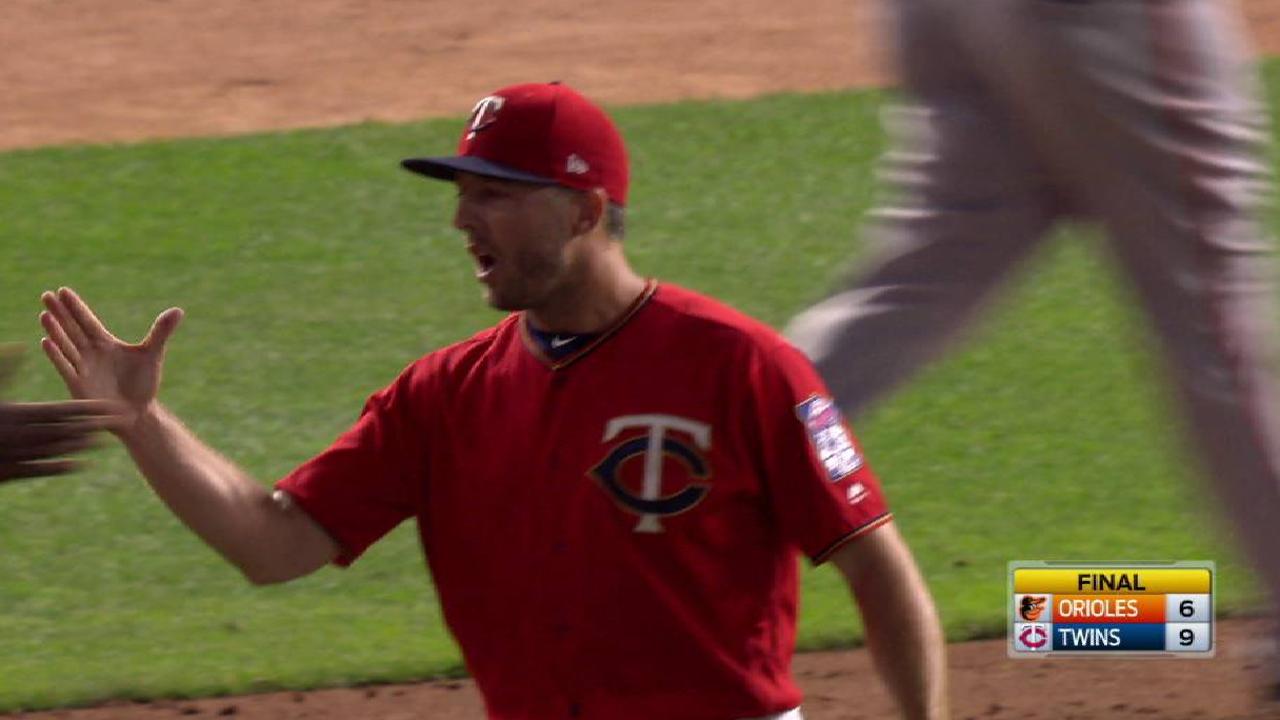 "Over the course of the season, you're going to have a handful of games that stand out," Twins manager Paul Molitor said. "The overall team effort we had, picking up Jorge with good team pitching and the rally, we didn't get too deflated."
MOMENTS THAT MATTERED
Vargas doubles up: Vargas, who was recalled from Triple-A Rochester before the game, made his presence felt with a game-tying two-run double as part of Minnesota's five-run fifth. Vargas crushed a 1-0 fastball from reliever Miguel Castro to left-center-field to help Minnesota tie the game. Gimenez followed with a bloop RBI single into center to give the Twins the lead.
"That was a nice response to a brief stint down there," Molitor said. "Some of those things we talked about before he left were on display tonight. We're hoping that'll hold. He was a bit more aggressive, looking for pitches to drive, and using that left-center-field gap as a power alley."
Pressly escapes jam: Reliever Ryan Pressly came in with a runner on in the sixth after the Twins took the lead, and promptly gave up a single to put two runners on. After a sacrifice bunt, Pressly beared down, striking out Ruben Tejada and getting Smith to ground out to short to end the inning and preserve the lead.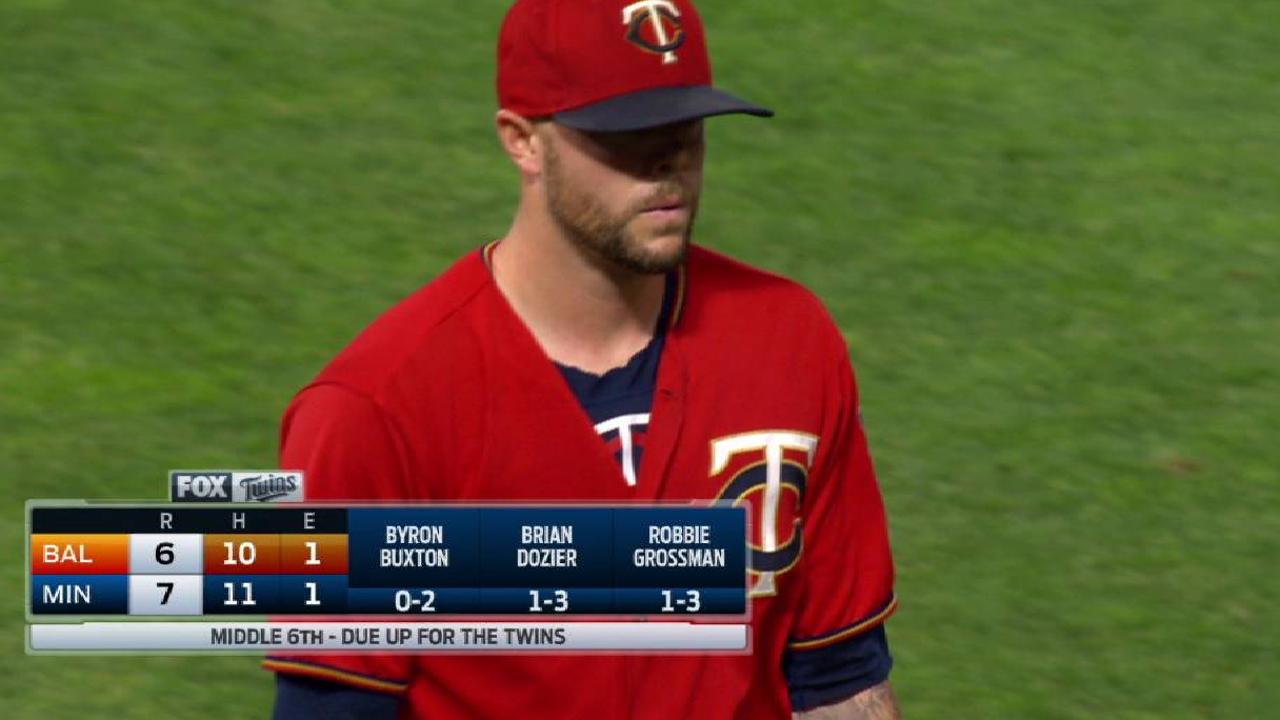 "It's one of those things where you try to strike him out," Pressly said. "It was a big spot, and thankfully I came through. Being able to throw my curveball for a strike, it's a completely different game when I do that."
QUOTABLE
"It's baseball. We all struggle one way or another. We go 0-for-30, pitchers get rocked out there, it's just part of the game. It's just going to make us stronger down the line. The more we get together, the more we keep playing together as a team, we will keep growing stronger,"-- Machado, on the O's slump
JORGE OPTIONED, GRANITE RECALLED
After struggling in his start, Jorge was optioned back to Double-A Chattanooga, and outfielder Zack Granite, the team's No. 21 prospect, was called up from Triple-A Rochester. Granite, who was hitting .360/.412/.492 in 59 games, is expected to be up until Joe Mauer returns from the disabled list on July 15.
"It's a bit of a reward for maybe being the best player in that league right now," Molitor said. "It will just supplement us here."
UPON FURTHER REVIEW
Vargas was the first to make contact off Gausman, who cruised through the early going. Vargas smacked a fastball into left and was initially rewarded with a one-out double. However, after a review that lasted just 48 seconds, the call was overturned. The replay showed that Jonathan Schoop had placed the tag on Vargas while he slid off the bag.
Minnesota elected to use a review in the fourth inning, but did not have similar results. In the fourth, Sano turned on a 1-1 splitter from Gausman, which went just to the left of the foul pole in the left-field corner. After a review that lasted 56 seconds, the call was confirmed and ruled a foul. The All-Star third baseman would later reach base on an infield single.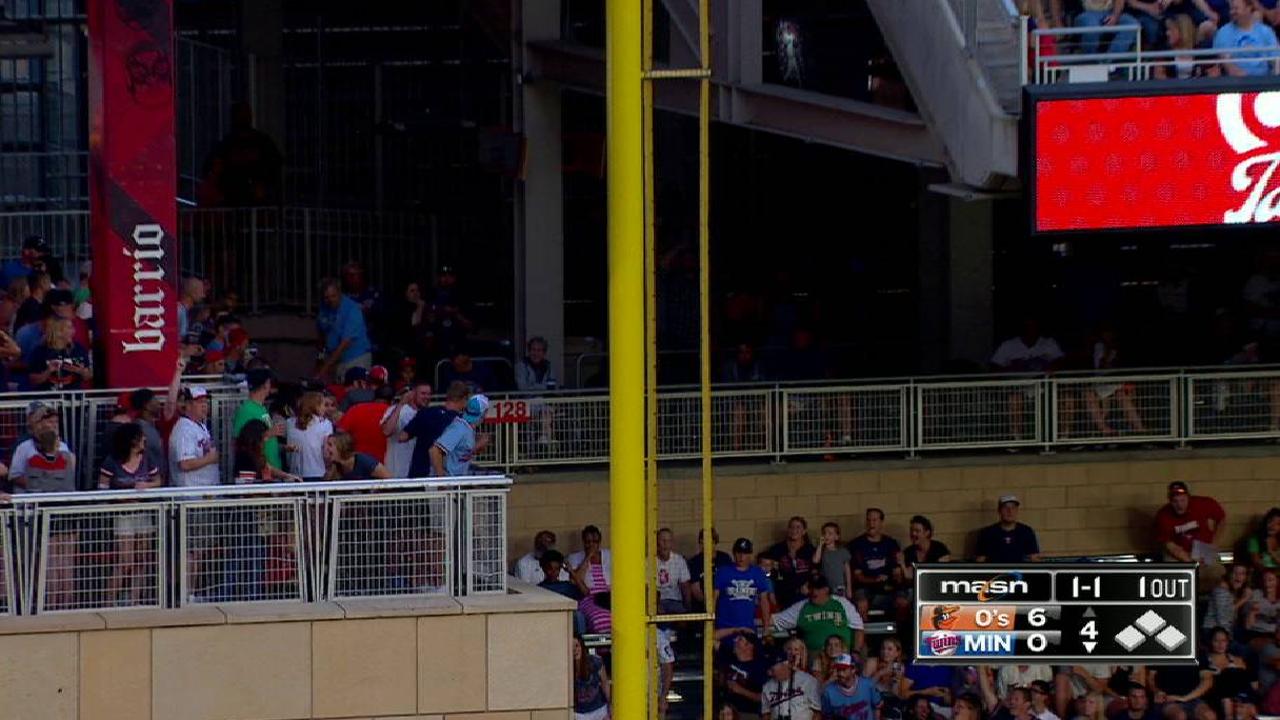 WHAT'S NEXT
Orioles: Left-hander Wade Miley (3-7, 5.20 ERA) will look to end his first half on a high note when he takes on the Twins at 2:10 p.m. ET. Miley has pitched fewer than six innings in each of his previous six outings, posting an 11.51 ERA over that span. Miley gave up seven runs in 1 2/3 frames in his last start.
Twins: Lefty Adalberto Mejia (4-3, 4.32 ERA) is slated to take the hill for the Twins for Game 3 of the series at 1:10 p.m. CT. In his last start, he fired seven strong innings in a win over the Angels. Mejia has won three straight starts and posted a 2.01 ERA over his past four outings.
Watch every out-of-market regular-season game live on MLB.TV.
Rhett Bollinger has covered the Twins for MLB.com since 2011. Follow him on Twitter @RhettBollinger and listen to his podcast.

Shane Jackson is a reporter for MLB.com based in Minneapolis.

This story was not subject to the approval of Major League Baseball or its clubs.