Red-hot Mauer providing lift at right time
First baseman hitting .435 over his last 17 games through Sunday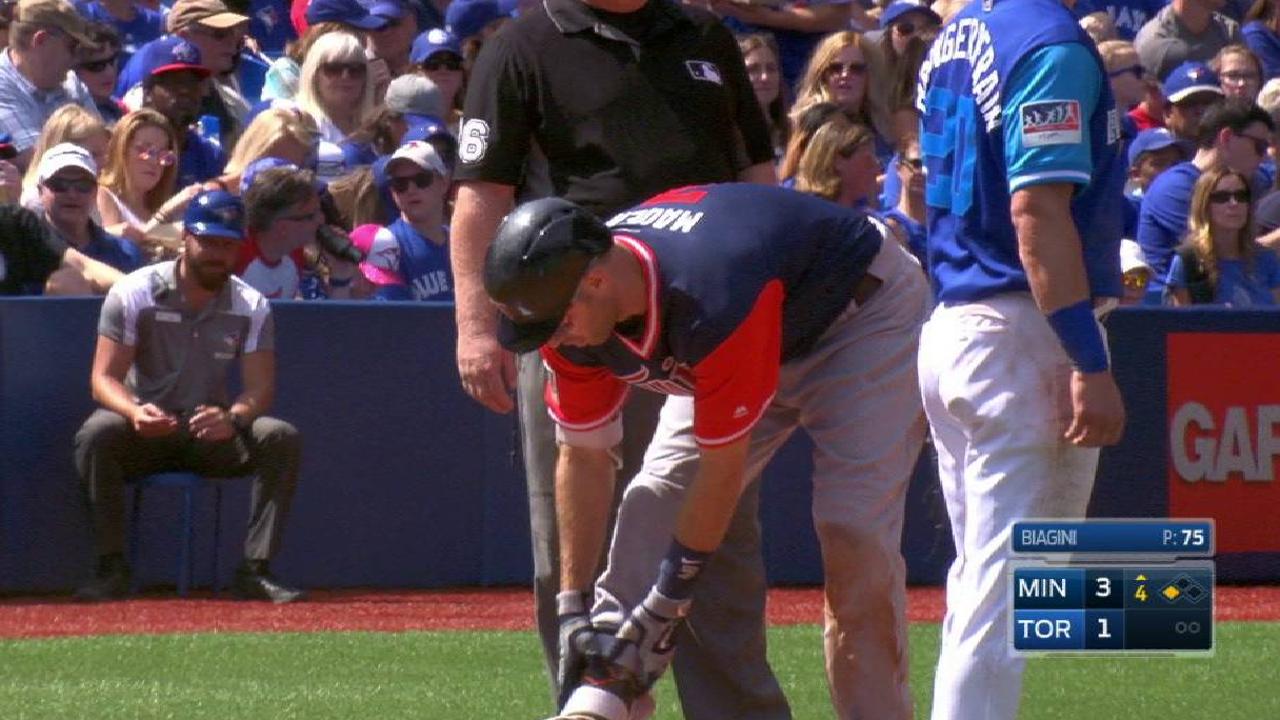 TORONTO -- Joe Mauer looks to have found his stride, and the timing couldn't be better for the Twins. Mauer went 2-for-5 in Minnesota's 7-2 win over the Blue Jays in Sunday's Players Weekend finale, capping a strong series for the 34-year-old first baseman.
In all, he went 8-for-15 over the three-game set with two doubles, a triple and five runs scored, helping the Twins to their first series win in Toronto since June 2014.
With the Twins battling for the second American League Wild Card spot, Mauer has been dialed in for most of a sizzling August. In his last 17 games, he's hitting .435 with 10 multi-hit games and nine RBIs.
"It's funny, it's the time of year where it's the 'dog days' a little bit, but obviously we put ourselves in a really good position to go play some postseason baseball, and that always helps coming to the park," he said.
"I'm feeling pretty good," the first baseman added. "Just trying not to do too much and put good swings on good pitches. Here in Toronto, I was getting the results."
Certainly, Mauer was a persistent problem for the Blue Jays over the weekend.
On Sunday, he was the game's first baserunner after a sharp single through the left side of the infield. In the fourth, he powered a line drive to right off Blue Jays starter Joe Biagini (nicknamed "Genie" on Players Weekend) that right-fielder Norichika "Nori" Aoki couldn't handle, giving Mauer his first triple of the season. He would come in to score on Byron Buxton's home run.
Thanks to his robust August, Mauer is quietly putting together his best offensive season in several years. His OPS of .783 is his highest since his last All-Star campaign in 2013, when he turned 30 and posted an .880 OPS while hitting .324.
"Probably his best year in a few [seasons] we're looking at," said Twins manager Paul Molitor. "I'm really happy that Joe's doing what he's doing. He's still a leader in that clubhouse. [He's] finding a way to get it done as we approach September.
"He's just taking good at-bats for us, day in and day out, and [he's a] big part of our lineup after being here for however many years. He's still a main cog for us."
Meanwhile, Mauer is just as excited by what he sees from surging young Twins such as Buxton ("Buck"), Eddie Rosario ("Bandidou") and Jorge Polanco ("Chulo").
"We've really stressed the little things since Spring Training. I think a lot of guys are buying in and when we're winning these games, it's a different guy every night," Mauer said.
"That's what good teams do."
Nick Patch is a contributor to MLB.com and covered the Twins on Sunday. This story was not subject to the approval of Major League Baseball or its clubs.