HR history: Twins go deep in 7 straight innings
Club is first MLB team to open game with such streak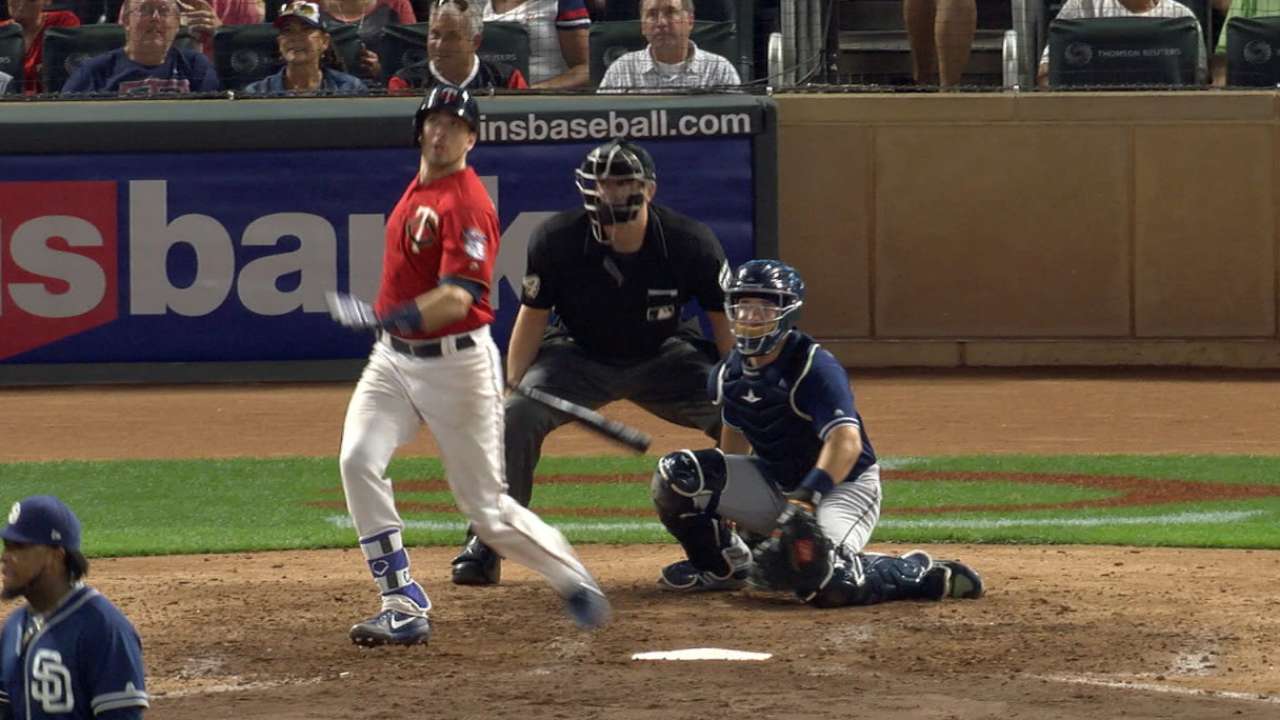 MINNEAPOLIS -- The Twins made Major League history Tuesday, becoming the first team to homer in each of the first seven innings of a game in their 16-0 rout of the Padres at Target Field.
The seven homers were a season high, set a Target Field record for the Twins and was one short of the club record of eight homers set on Aug. 29, 1963. They became the first team to homer in seven consecutive innings in a game since the Reds on Sept. 4, 1999. All told, it added up to 2,765 feet worth of homers from Brian Dozier, Jorge Polanco, Jason Castro (two), Eduardo Escobar, Eddie Rosario and Kennys Vargas, per Statcast™.
"It's fun," manager Paul Molitor said. "It's loud. There weren't too many cheapies. Castro kind of sliced his into the flower bed. Seeing the ball Escobar hit, Rosie going into the opposite bullpen, Kennys was kind of an exclamation point there. We've had a nice season with power, and the balance is pretty spread out."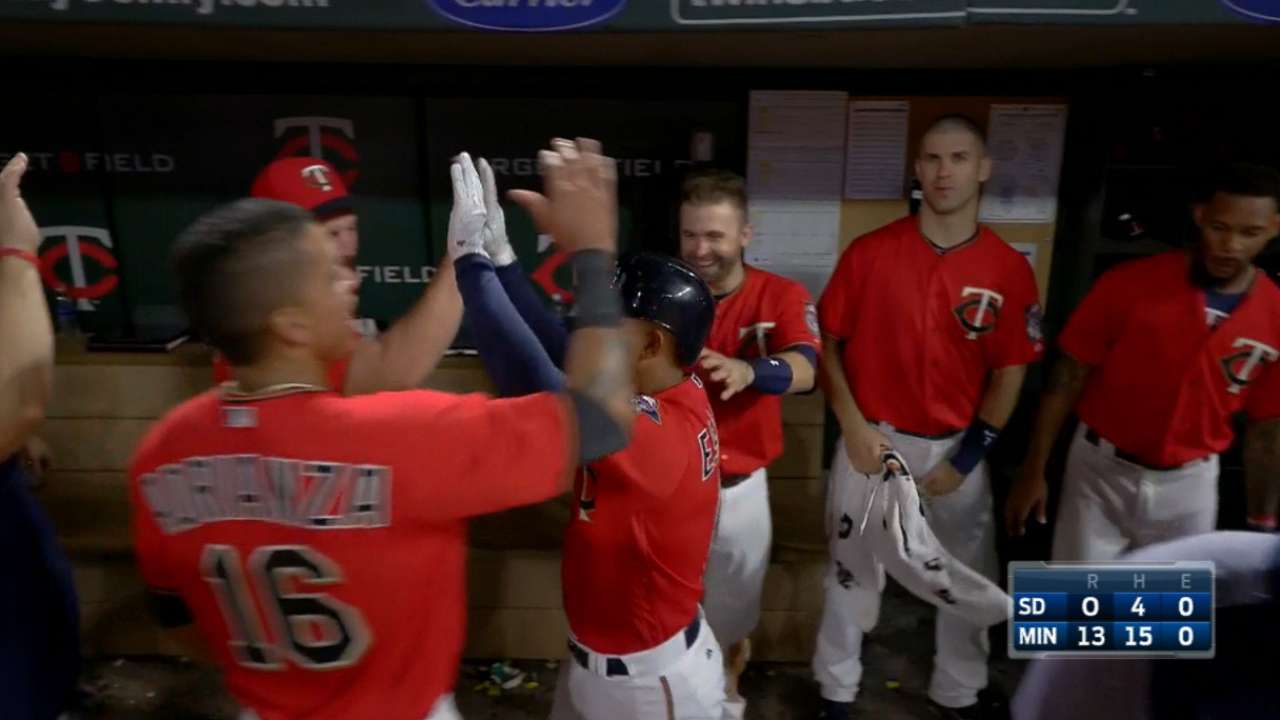 After the game, the Twins had the six players pose for a picture outside the clubhouse to celebrate the accomplishment.
Lucky 7! #WereGonna homer! #TwinsWin #MNTwins pic.twitter.com/MqVstFRLYQ

— Minnesota Twins (@Twins) September 13, 2017
"I'm sure it'll be all over social media," Dozier said with a laugh. "We were flexing in it. It's all about having fun, and that's what we're doing right now."
Dozier set the tone with a leadoff homer off left-hander Travis Wood, becoming the fifth Twins player and fifth Major League second baseman to hit 30 homers in consecutive seasons. The opposite-field shot had an exit velocity of 99 mph and went a projected 368 feet, per Statcast™.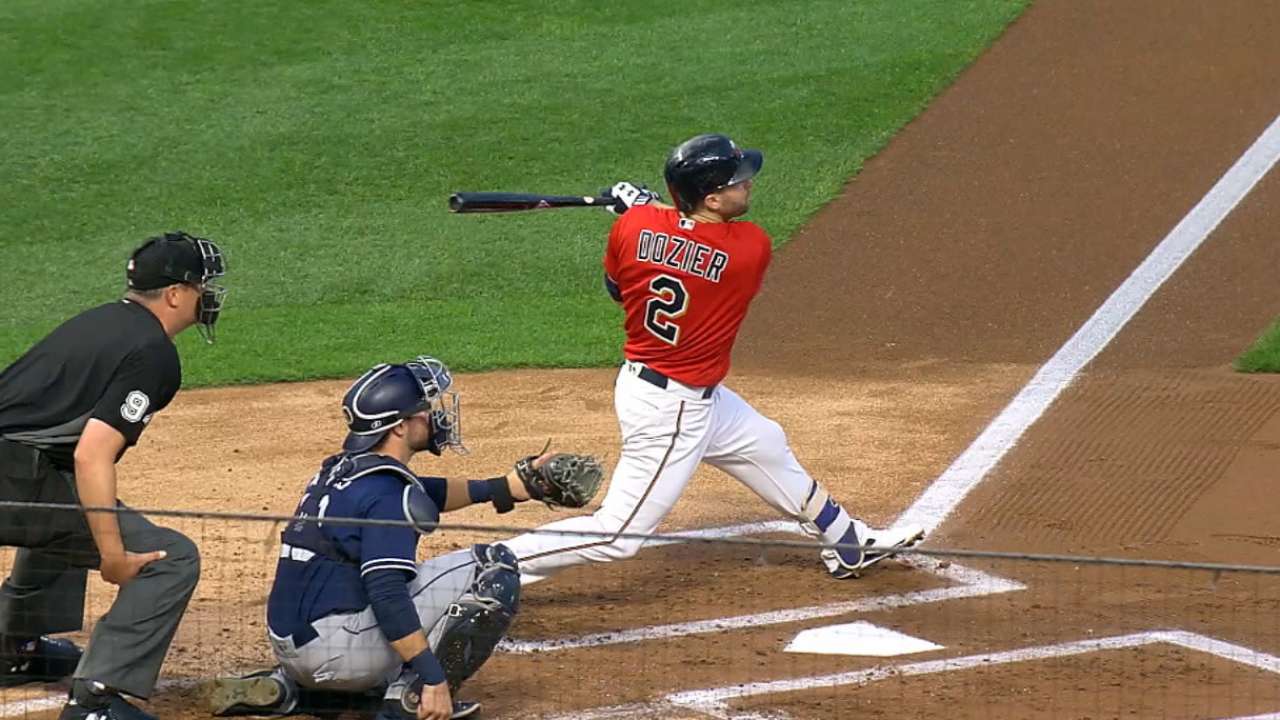 "Hitting is contagious, I know it's a boring answer, but it is," Dozier said. "Tonight, with such a big lead, everyone got more comfortable in the box and you feed off each other."
Polanco hit a two-run homer as part of a six-run second inning. The ball left the bat at 104.6 mph and traveled a projected 403 feet.
"It feels really good," Polanco said through an interpreter. "When you see those balls going out every inning, you get happy and excited. There was a lot of excitement in the dugout today and a cool thing to be a part of."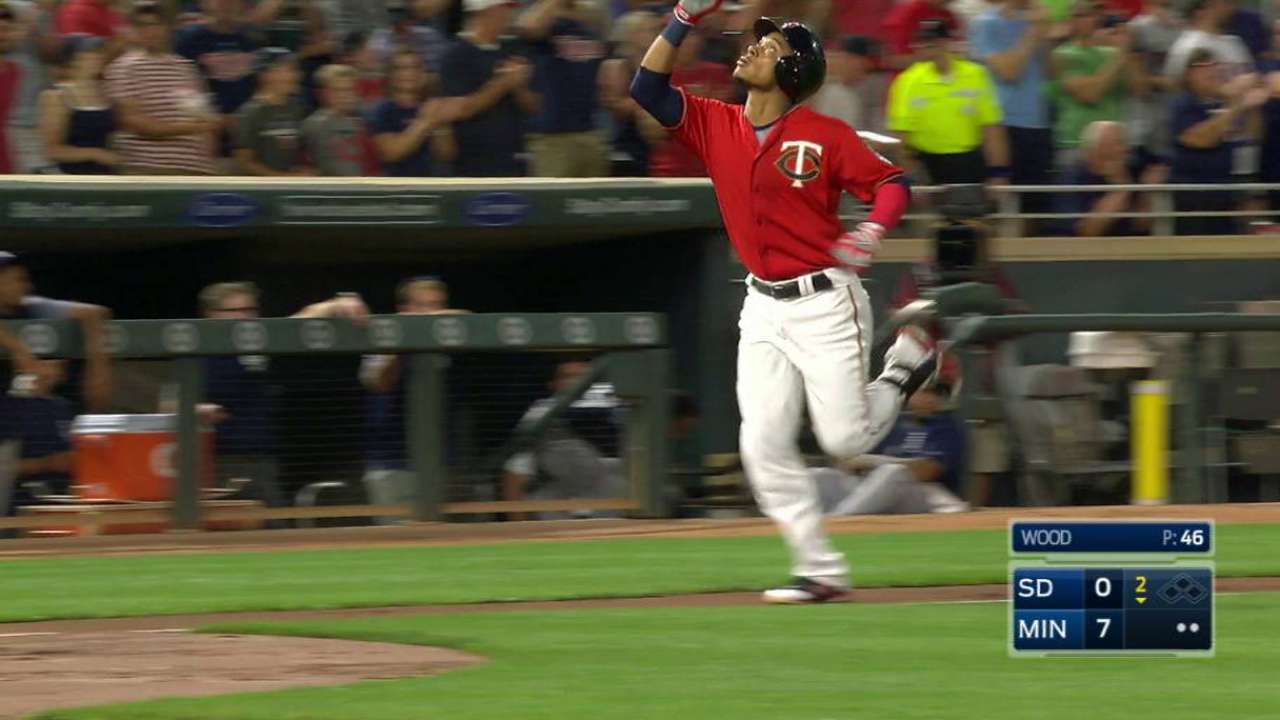 Castro hit the first of his two homers in the third, a two-run blast off Wood. It left the bat at 98.1 mph and went a projected 355 feet to left. His second homer came in the fifth off reliever Jose Valdez and was hit harder, with an exit velocity of 101.4 mph and projected distance of 406 feet to right-center. It was Castro's fourth multi-homer game of his career.
Rosario's two-run homer came in the fourth off Valdez, leaving the bat at 98.5 mph and traveling a projected 390 feet. It was his 22nd of the year.
Escobar got in on the action with a solo shot in the sixth off Cory Mazzoni. It was the third-hardest hit homer of the night with an exit velocity of 104.3 mph, traveling a projected 419 feet. It was Escobar's sixth homer in September and his 18th of the season.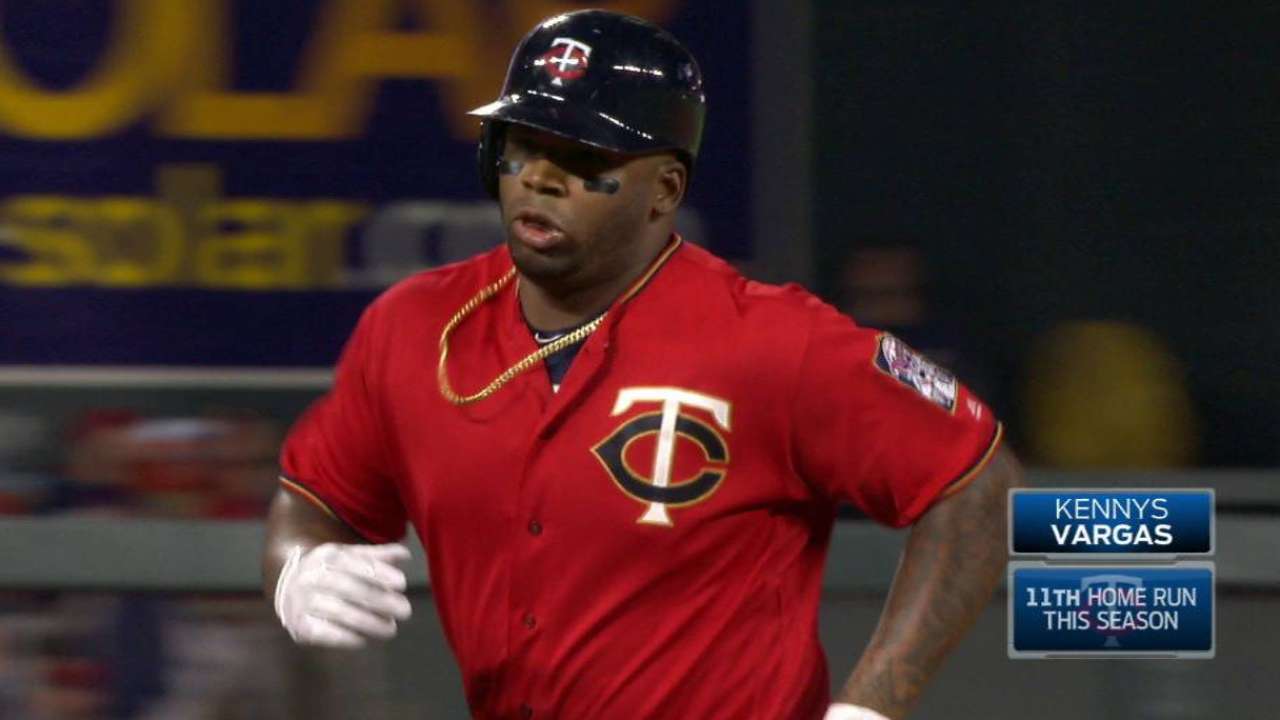 The biggest blast of the night was the last one, with Vargas delivering with a three-run homer off Mazzoni that left the bat at 111.3 mph and went a projected 424 feet. It was Vargas' career-high 11th homer.
Rhett Bollinger has covered the Twins for MLB.com since 2011. Follow him on Twitter @RhettBollinger and Facebook. This story was not subject to the approval of Major League Baseball or its clubs.