Twins thinking of shuffling rotation
Minnesota may bump Gibson in order to align staff for potential AL Wild Card Game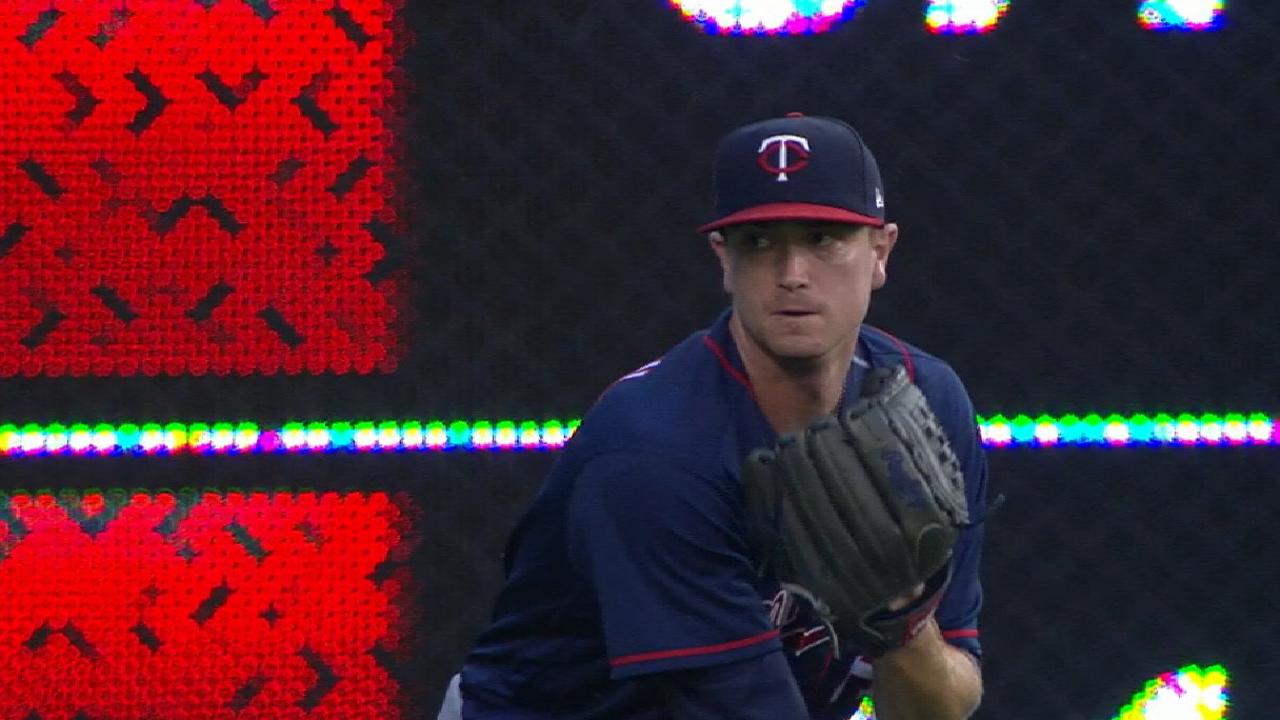 DETROIT -- With an off-day on Monday, the Twins are debating shuffling their rotation for their series against the Indians.
As things currently stand, right-hander Bartolo Colon is lined up to start the series opener on Tuesday, with left-hander Adalberto Mejia on Wednesday and right-hander Kyle Gibson on Thursday. The Twins discussed possibly pushing back Colon because of his recent struggles with a 7.99 ERA over his last five starts, but manager Paul Molitor said they're expecting him to start on Tuesday.
It's more likely the Twins could decide to push back Gibson, allowing right-hander Ervin Santana to throw on regular rest on Thursday. They want Santana to be available to start a potential American League Wild Card Game on Oct. 3. If Santana goes Thursday, he'd be lined up to start that game on regular rest.
"We had some extensive talks with some people in this clubhouse but I'm not going to finalize it yet," Molitor said. "I have options, obviously. We can keep it on schedule the first two games back with Colon and Mejia. We could flip Ervin into that third game in Cleveland, possibly."
There's a remote chance Gibson could be moved up to start on short rest to make two starts down the stretch, but with Minnesota's lead in the AL Wild Card race, it's unlikely, according to Molitor.
"Gibson, you could do some juggling to get him two starts if you thought that was warranted," Molitor said. "There's options, but for now, I'm leaning not to do a lot of tinkering. There might be a little bit in terms of Ervin's situation.
"Let's see how the next couple days go. Locked sounds a little too final, so it's foolish to look too far in advance."
Worth noting
• Twins third baseman Miguel Sano has only been receiving treatment on his left shin in Minnesota, and hasn't hit since the Twins started their road trip on Monday. With Sano not participating in baseball activities, his return before the end of the regular season remains highly unlikely.
• The Twins hosted their first-ever football game at Target Field on Saturday, drawing a crowd of 37,355 fans for a game between University of St. Thomas and Saint John's University. The attendance number shattered the record for largest crowd in NCAA Division III football history by close to 20,000 spectators.
Rhett Bollinger has covered the Twins for MLB.com since 2011. Follow him on Twitter @RhettBollinger and Facebook. This story was not subject to the approval of Major League Baseball or its clubs.