Colabello, Butera return after Classic success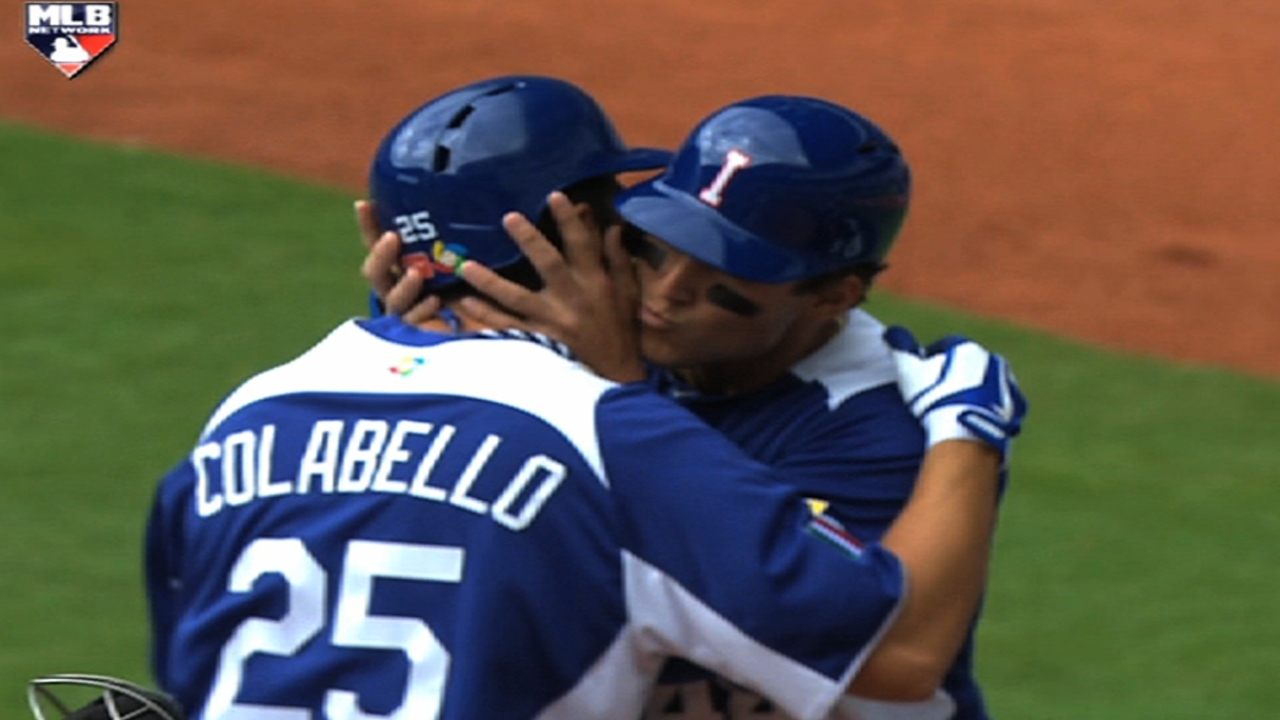 FORT MYERS, Fla. -- The Twins' Team Italy contingent was back in the fold on Friday.
Catcher Drew Butera and first baseman Chris Colabello were part of the travel roster for the Twins on Friday night against the Red Sox at Jet Blue Park, though neither was in the starting lineup. After helping Italy surprisingly reach the second round of the World Baseball Classic, the pair can get back to making an impression in big league camp.
Colabello pinch-hit and went 0-for-1 with a strikeout.
"It's time for them to get down to business here," general manager Terry Ryan said. "They had a very good experience and now they have a chance here to carry that on."
Butera appeared in four games behind the plate for Italy, but it was Colabello who really took advantage of the opportunity. The 29-year-old trying to blaze the unusual path from independent league veteran to big leaguer hit .333 with a pair of homers and seven RBIs in his five games. In Italy's trouncing of Canada in the first round, Colabello had four hits and four RBIs, including his first homer of the tournament. He also hit a three-run homer in the Round 2 opener against the Dominican Republic, though Italy couldn't hold on to that first-inning lead.
"I was able to put some good swings on balls and it was neat to be able to help the team win some games," said Colabello, whose father, Lou, pitched for Team Italy in the 1984 Olympics. "As a player, my biggest objective is to help my team win baseball games somehow, some way. It happened to be with some big swings there and it was pretty neat."
This is Calabello's first big league camp, having signed out of the independent leagues a year ago and having a strong 2012 season in Double-A. While it could be argued that his World Baseball Classic schedule took him away from opening eyes here, the flip side of that argument might be that excelling in that international setting might have been even more impressive than anything he would've accomplished in Grapefruit League action.
"He made an impression before he left, but we certainly could watch what he did as part of that Italian team and we took notice," Ryan said. "It's not like we didn't encourage him to go. That was a once-in-a-lifetime opportunity for him and we encouraged him to take it. Now he's going to come back and see what he can do here as far as this club, but he did a good job for the Italian team. I can tell you one thing, he takes a lot of pride in what he represents there."
Colabello, who speaks fluent Italian, could not thank the Twins enough for affording him the ability to represent Italy in the Classic. Having it help him achieve the dream of making it to the big leagues is almost secondary and there's likely very little the first baseman would have traded for that opportunity.
"To match the energy and excitement that was going on every pitch of that tournament would be very, very hard in a Spring Training environment," Colabello said. "This being my first big league camp, there was a lot of that for me, personally, but to feel that with 27 other guys, to feel it with the fans and the people at the game, it was pretty unbelievable.
"You can't really match the stage. My dad played in the Olympics and I don't think they had quite the following this tournament did, especially because of the participation of all the big leaguers. I'm so thankful to the organization for letting me go there and having that experience. It's something that I'll never forget. If it happens to be something that helps boost me to the next level, then that's great."
Jonathan Mayo is a reporter for MLB.com and writes a blog, B3. Follow Share This