Deduno's Classic performance resonates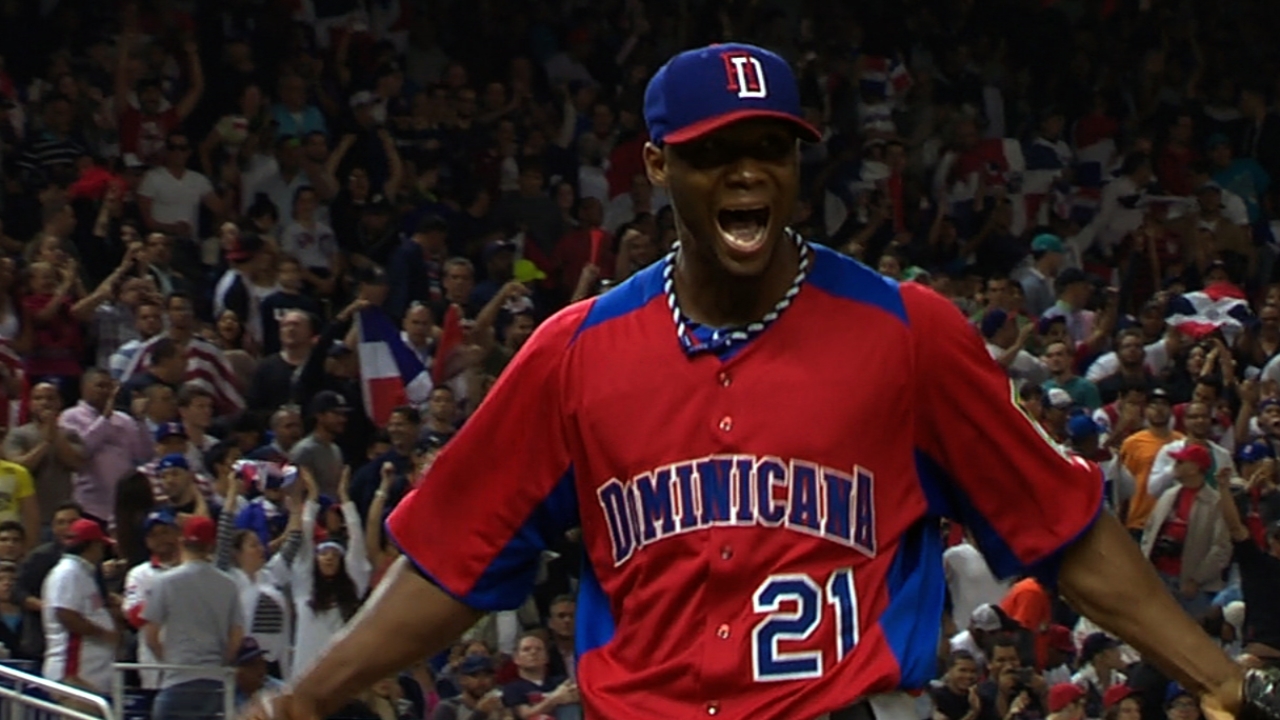 FORT MYERS, Fla. -- The Dominican Republic is headed to the World Baseball Classic semifinals and Twins right-hander Samuel Deduno is a big reason why.
Deduno kept the United States' lineup at bay on Thursday night in Round 2 action, allowing just one run over four innings in a game the Dominicans eventually won, 3-1, to earn a trip to San Francisco. It was a solid follow-up to his start against Spain in the first round, when he blanked his opponent for four frames, allowing the Dominican Republic to go to 2-0. The team would beat Puerto Rico the next day to bring a perfect 3-0 record into the next round.
"He's done that for us," general manager Terry Ryan said. "That's exactly what we've seen out of him. When he's throwing it over the plate, he isn't going to get hit, because the ball moves so much."
It's the throwing it over the plate part that has caused Deduno trouble over the years. The right-hander has walked 5.1 per nine innings over the course of his Minor League career. In his 15 starts with the Twins in 2012, he walked six per nine. That, in turn, allowed him to average only a bit over five innings per start.
"Unfortunately, you get into the pitch counts and you get into the bullpen," Ryan said. "He had stretches for us last year that were darn good. When he throws it over, there isn't anybody who ever hits him. Unfortunately, he has to throw it over more so he doesn't tax your bullpen."
As effective as Deduno was against the United States, he was far from efficient. Against Spain, he was able to get through four innings by throwing more strikes than usual, with 45 of his 64 pitches coming in the zone. On Thursday, he had hit 80 pitches through four, only 46 for strikes. With a Round 2 pitch limit of 85, his evening was done as a result.
"That's nice in a short stretch like in that championship series," Ryan said. "That doesn't work over the long haul if you expect to give the ball to him 35 times. He needs to throw the ball over the plate. But you could see the look in his eye. He was pretty intense."
That intensity might not be quite so welcome when he's back in a Twins uniform. That's not to say the powers that be don't want him to be competitive. But the histrionics Deduno, and others, have displayed during the World Baseball Classic probably wouldn't fly in Minnesota.
"That's a different environment," Ryan said. "I think it's legal over there. I'm not sure that would be legal in a normal, regular-season game against the Kansas City Royals, you probably wouldn't see that out of Samuel. The next guy that comes up to lead off our inning is probably going to get one. But in that venue, I think that is fine."
Jonathan Mayo is a reporter for MLB.com and writes a blog, B3. Follow Share This