De Vries unhittable, Hendriks close in latest test
Rotation hopefuls combine to throw eight innings of one-hit ball against Yankees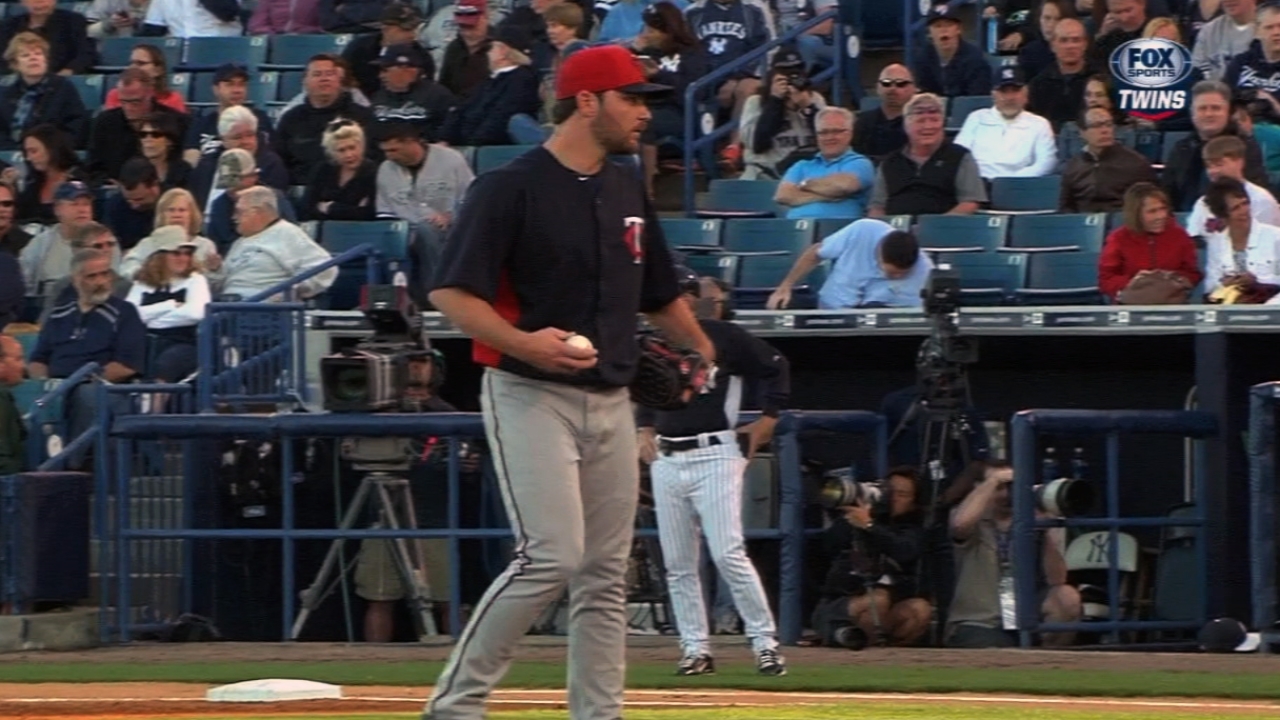 TAMPA, Fla. -- Cole De Vries' excellent Grapefruit League work continued apace Thursday night, but Liam Hendriks flipped the script on his recently rocky spring.
Entering the night having allowed nine runs over his last 10 innings, Hendriks got the start against the Yankees at George M. Steinbrenner Field and pitched four strong innings. The right-hander allowed only one hit, two walks and an unearned run while striking out two.
De Vries, meanwhile, put together another scoreless outing, his fifth in six Spring Training appearances. He gave up only one walk and struck out two over four innings, lowering his Grapefruit League ERA to 0.64. And so the battle for a rotation spot continues among De Vries, Hendriks, Samuel Deduno and P.J. Walters.
"I thought they both threw the ball good. You saw they only had one hit out there," Twins manager Ron Gardenhire said. "Those guys kept the pace of the game. They threw the ball over for the most part. That's what you have to see. We're looking for people to make decisions for us, and those guys both stepped up tonight and threw the ball very, very well. Good for them. ... Both of them did the same thing. They made pitches when they had to."
Hendriks attributed his strong outing to a more relaxed approach to throwing his offspeed pitches. His curveball neutralized New York's lefty hitters, and his slider held the righties in check. The reason both pitches worked so well Thursday night, he said, was a little bit of advice he received from pitching coach Rick Anderson after his most recent side session.
"In my bullpen, my offspeed, I could not locate a single thing. It was kind of disgraceful," Hendriks said. "But I spoke with him, and he just said to relax. Just relax and throw it nice and easy and everything like that. It paid off tonight. I felt really good, was able to throw everything for strikes and have some good breaking stuff as well.
"I'm always kind of relaxed. I think it's the Aussie nature. It's mainly just [that] I was gripping the ball too tight. I was trying to choke it and throw it as hard as I could every time. It's just not the way I throw my offspeed stuff. I need to relax and take it nice and easy and make sure that my arm action and everything is the same rather than trying to ramp it up a little bit on offspeed."
De Vries got some similar advice from Anderson after rushing his delivery during his first three innings before everything started to click in the eighth. Some of that may have been a product of coming out of the bullpen, but De Vries was quick to note that he'd be happy to get used to it if it means securing a job somewhere on the Twins' pitching staff.
"I know there's spots open. I have no idea how many are available in the bullpen," De Vries said. "But I will take any spot that's available as long as it's up here and not in Rochester."
Adam Berry is a reporter for MLB.com. Follow him on Twitter at @adamdberry. This story was not subject to the approval of Major League Baseball or its clubs.