Gardenhire has several possibilities to bat second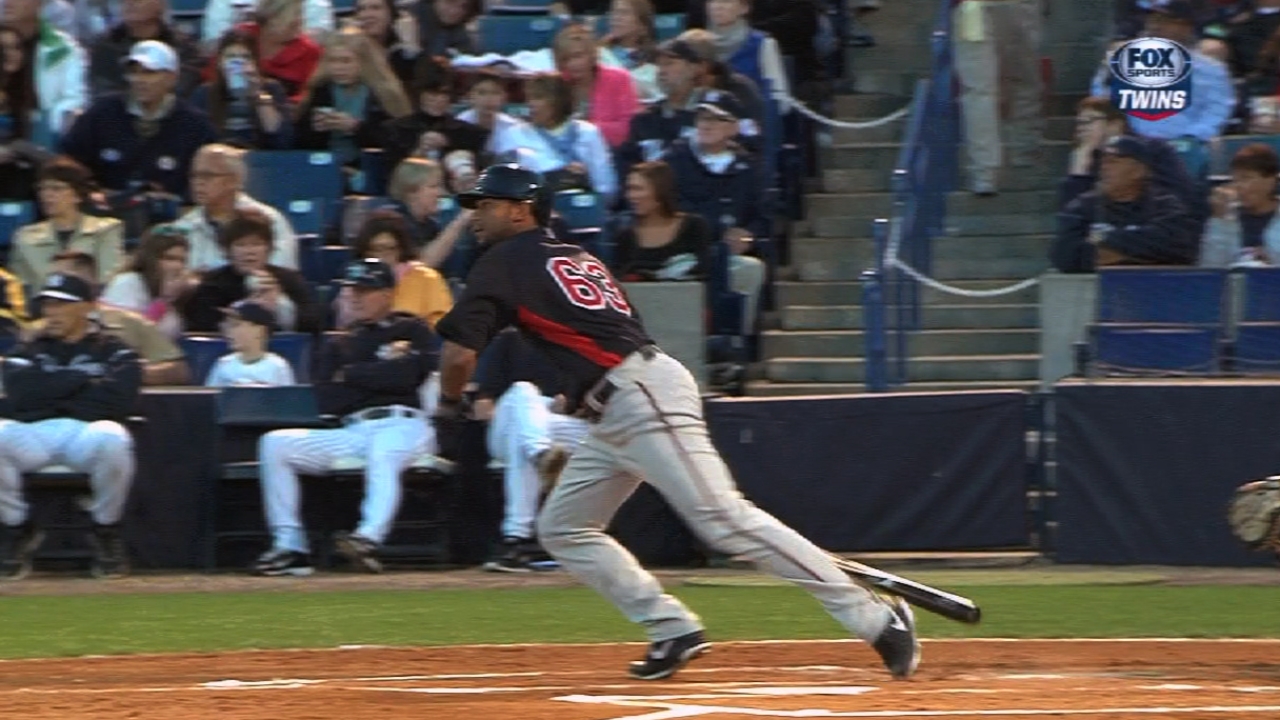 PORT CHARLOTTE, Fla. -- When the Twins traded Denard Span and Ben Revere this offseason, they not only lost their starting center and right fielders but also their leadoff and No. 2 hitters.
Minnesota is set to replace Span in center field with either top prospect Aaron Hicks -- who is the heavy favorite with a little more than a week left in camp -- or Darin Mastroianni, and whoever wins that battle will bat leadoff.
And with Chris Parmelee, who figures to hit seventh in the lineup, taking over in right field, the Twins are trying to decide who will bat second in 2013.
Second baseman Brian Dozier has been getting a look as a No. 2 possibility this spring, but Twins manager Ron Gardenhire said he still hasn't officially decided how his lineup will shake out on Opening Day.
"I've always thought that No. 2 hitters have to take pitches a little bit and have to protect the runner on base while also being an on-base guy, too, so that the number three, four and five guys have an opportunity," Gardenhire said. "He has to bunt and all those things and get the guy over. Like leadoff gets on, steals second and then shoot the ball the other way to get him over for the other guys."
Gardenhire added that he works with a statistician to help him come up with the lineup, but joked that the computer says Joe Mauer should bat first, second and third in the order. He said it's not out of the question that Mauer hits second, but that he prefers him in the three hole.
"People say they want Joe Mauer batting second, but do you really want him coming up with a man on second base and shooting them the other way?" Gardenhire asked. "I don't know about that. That's not his game. But hitting is his game, so he can do it, so I've looked at it."
Dozier is currently the top candidate to hit second but posted just a .234 batting average with a .271 on-base percentage in 84 games as a Rookie last year. Gardenhire feels Dozier can improve those totals, as he had a .370 OBP in four seasons in the Minors.
"I'm comfortable with Dozier right there," Gardenhire said. "He's been swinging good. He's been having good at-bats. He can handle the bat. We can see how it goes. I'm seeing better at-bats. He's a swinger, but he has the chance to have a better on-base percentage."
Rhett Bollinger is a reporter for MLB.com. Read his blog, Bollinger Beat, and follow him on Twitter @RhettBollinger. This story was not subject to the approval of Major League Baseball or its clubs.