Rule 5 pick Pressly is top bullpen candidate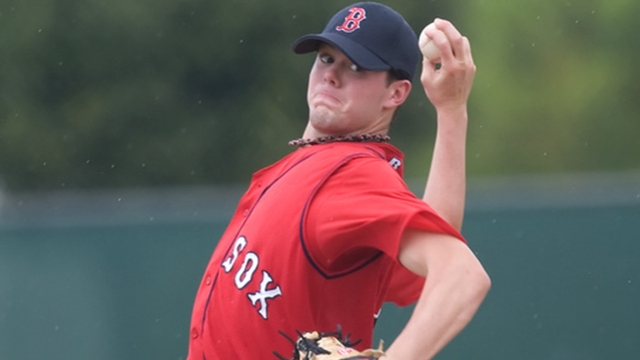 FORT MYERS, Fla. -- Twins right-hander Ryan Pressly, who was selected from the Red Sox in December's Rule 5 Draft, has continued to impress this spring and is a top candidate to make Minnesota's bullpen.
Entering Sunday's game against the Blue Jays, Pressly had allowed just one run in 11 innings this spring for a 0.82 ERA. He's also walked three and struck out three.
"I don't think it could be going any better," Pressly said. "Things are starting to fall into place. I'm liking where I'm sitting right now, so we'll have to wait and see what happens."
Pressly is in a tough position, as he must make the club and remain on the Twins' 25-man roster for the entire season, or else he will be offered back to the Red Sox.
Another option -- if Minnesota doesn't want to keep him on the active roster all year -- would be to offer him back and acquire him in a trade like the Twins did in 2011 with Scott Diamond. But given his success this spring, it's doubtful the Red Sox would want to deal him to the Twins.
"We like him," Twins manager Ron Gardenhire said. "We like him a lot. He's throwing the ball well. Good angle, nice little breaking ball, good velocity."
Gardenhire added that if Pressly makes the roster, he won't simply be stashed in the back of the bullpen all season despite the fact that he has never pitched above Double-A.
"If he makes it, it's because we think he can pitch," Gardenhire said. "We think he can pitch now, not for the future with this ballclub. If he makes this ballclub, it's because he can pitch."
Rhett Bollinger is a reporter for MLB.com. Read his blog, Bollinger Beat, and follow him on Twitter @RhettBollinger. This story was not subject to the approval of Major League Baseball or its clubs.