Twins option reliever Burnett to Triple-A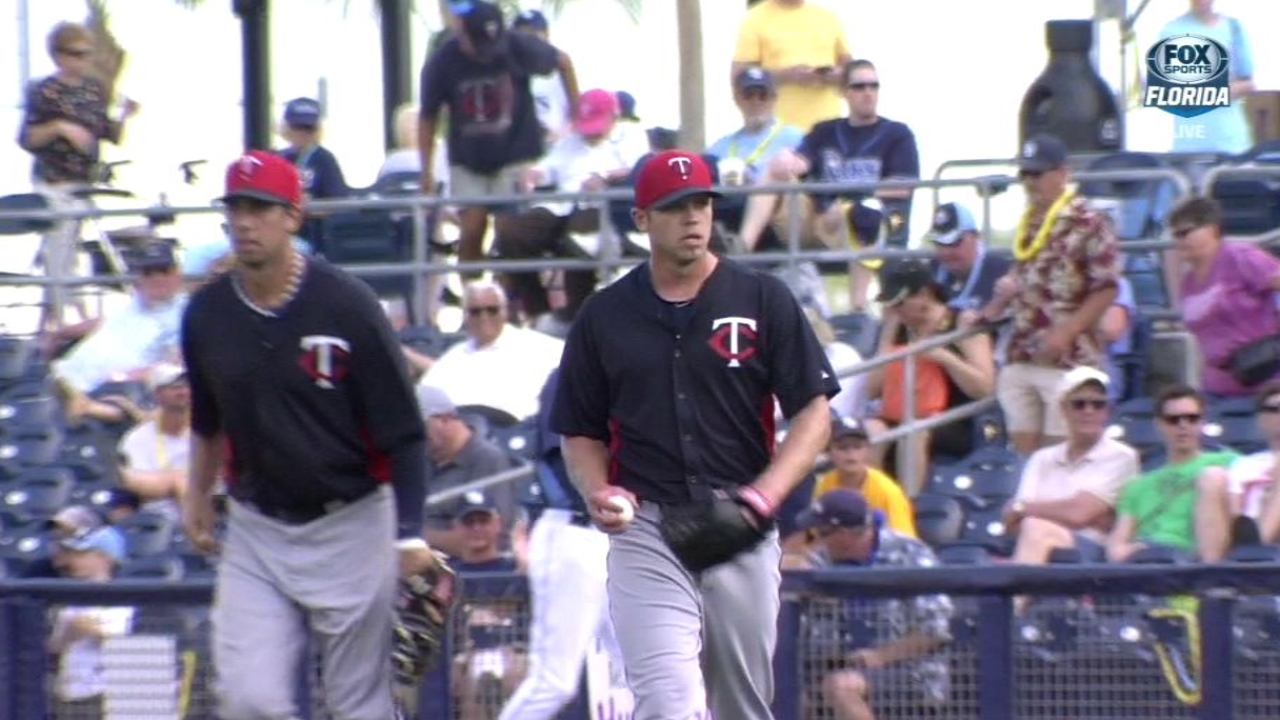 BRADENTON, Fla. -- The Twins' roster is nearly set, as the club optioned reliever Alex Burnett to Triple-A Rochester on Wednesday, which leaves the club with 25 healthy players in camp.
The roster move officially means the Twins have 28 players in camp, but it also includes injured pitchers Tim Wood, Rafael Perez and Rich Harden.
Of the three, Wood is the only one with a chance to be ready for the start of the season, but it looks like he'll start the year on the 15-day disabled list with a right rotator cuff strain.
"We've got to make a call pretty soon," Twins general manager Terry Ryan said about Wood. "Once we get settled in the next couple days in Fort Myers we'll see where he's at."
If Wood lands on the DL, the Twins roster will be set, as it means left-hander Tyler Robertson beat out Burnett for the final spot in the bullpen.
Burnett struggled this spring with a 7.56 ERA in 8 1/3 innings while Robertson wasn't much better with a 6.75 ERA in 10 2/3 frames.
"It was a tough call," Ryan said. "We had a couple decisions to make there so we decided to go this way. But as is the case every spring, where you start, it doesn't mean you're going to stay there that long. I just told Alex he needs to firm some things up."
The move came as somewhat of a surprise, as Burnett had a 3.52 ERA in 71 2/3 innings with the Twins last season. But he had a 5.08 ERA in the second half of the season and only struck out 36 hitters.
"He had a good first half for us last year, but struggled in the second half and he carried it over into Spring Training a little bit," Twins manager Ron Gardenhire said. "He didn't have many clean innings. We love his arm, but like we've said, we wanted to pick the best guys and he wasn't one of those guys."
So while the roster is coming into clearer focus, Gardenhire said it's still not officially set just yet. The Twins also have to make a corresponding 40-man roster move to add outfielder Wilkin Ramirez to the active roster.
"Things happen," Gardenhire said. "We look like we've got it, but there are some things we still need to straighten out. There are still roster spots we need to make room for. So we'll see how it shakes out. That's why we haven't announced too awful much."
Rhett Bollinger is a reporter for MLB.com. Read his blog, Bollinger Beat, and follow him on Twitter @RhettBollinger This story was not subject to the approval of Major League Baseball or its clubs.