Mauer getting extra work in with new pitchers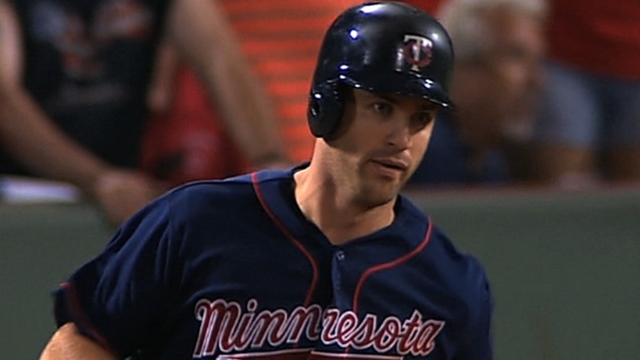 FORT MYERS, Fla. -- The first three pitchers in the Twins' rotation -- Vance Worley (Phillies), Kevin Correia (Pirates) and Mike Pelfrey (Mets) -- are new to the organization this season. That alone would have meant a steep learning curve for All-Star catcher Joe Mauer. Throw in the fact that played for Team USA in the World Baseball Classic and the degree of difficulty only increases.
Terry Ryan isn't worried.
"We've had a lot of pitchers come and go over the last several years. He's had a lot of opportunity to get used to the change," the general manager said before Thursday night's 6-1 loss to the Red Sox at Jet Blue Park. "He had to get used to the WBC pitchers this last month. So I don't think it takes him all that long. He certainly has been around long enough. A couple times through the lineup or a couple times through their starts, I'm sure he's somewhat acclimated now."
Just to be sure, Mauer is getting in all the work he can with the new guys. He caught Worley on Wednesday. He caught Correia on Thursday night. And he'll catch Pelfrey when the Twins wrap up Grapefruit League play on Saturday.
"He's trying to get as familiar with those guys as he can. And he's pretty adept at knowing what he's trying to accomplish with these guys," Ryan said.
Mauer had a double, one of Minnesota's five hits against Boston. He's batting .448 for the spring. Ryan is encouraged not only by how well he's performed, but at how much work the catcher's getting behind the plate. Last season, coming off knee problems, Mauer started 144 games, but 42 were at designated hitter and 30 were at first base.
"I think he's probably as prepared to go into the season as he's been in a number of years," the general manager said. "He's healthy. He's been out there quite a bit and it's been behind the plate for the most part. It's not been at first or any of that stuff. I think he's well prepared. He looks good. He's swinging the bat well. I think he feels comfortable behind the plate. So I suspect he's ready to go. He's probably itching to go."
Paul Hagen is a reporter for MLB.com. This story was not subject to the approval of Major League Baseball or its clubs.