Arcia back with Twins after minor absence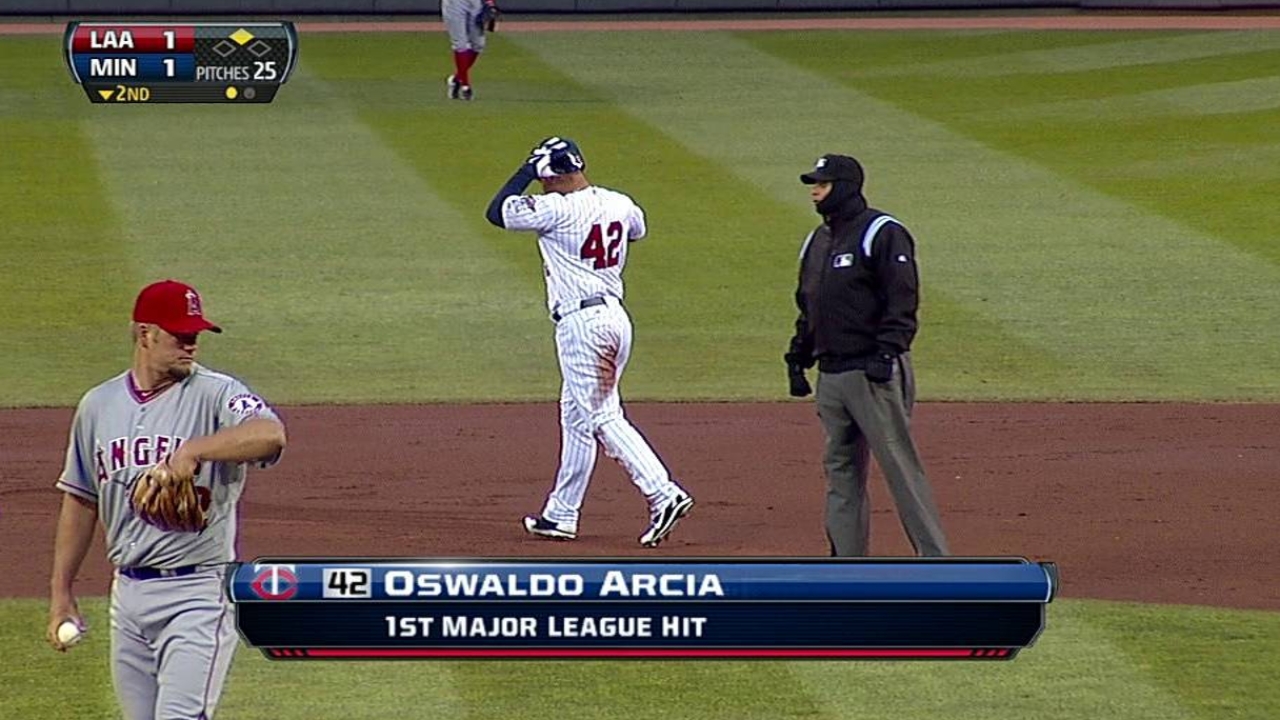 MINNEAPOLIS -- Outfielder Oswaldo Arcia has been doing plenty of traveling recently, as he was optioned to Triple-A Rochester after his Major League debut on Monday, but was recalled after Tuesday's game and was scheduled to be back in the lineup on Wednesday against the Angels before the game was postponed due to inclement weather.
Arcia, ranked as the No. 93 overall prospect and as the Twins' No. 5 prospect by MLB.com, originally took the place of Wilkin Ramirez on the roster, but Ramirez was reinstated from the paternity list before Tuesday's game. But Arcia flew back to the Twin Cities from Rochester, N.Y., after Darin Mastroianni was placed on the 15-day disabled list with a stress reaction in his left ankle after Tuesday's game.
"He's been all around the world getting mileage, so I hope he's got it on his credit card," Twins manager Ron Gardenhire joked. "But he's right back in it and ready to go again. So we'll put him back out there and see what happens. He can swing it."
Arcia, who started in left field in his big league debut, was slated to get the start in right field on Wednesday before the game was postponed. Gardenhire said Arcia will remain a corner outfielder with Ramirez serving as the club's backup center fielder to Aaron Hicks and utility man Eduardo Escobar being the third-stringer.
"Ramirez is the guy right now, but I wouldn't be afraid to put Escobar out there because he can run the ball down wherever you put him," Gardenhire said. "But Wilkin would be our first choice back-up center fielder."
Rhett Bollinger is a reporter for MLB.com. Read his blog, Bollinger Beat, and follow him on Twitter @RhettBollinger. This story was not subject to the approval of Major League Baseball or its clubs.