Gardenhire wants Arcia in lineup as much as possible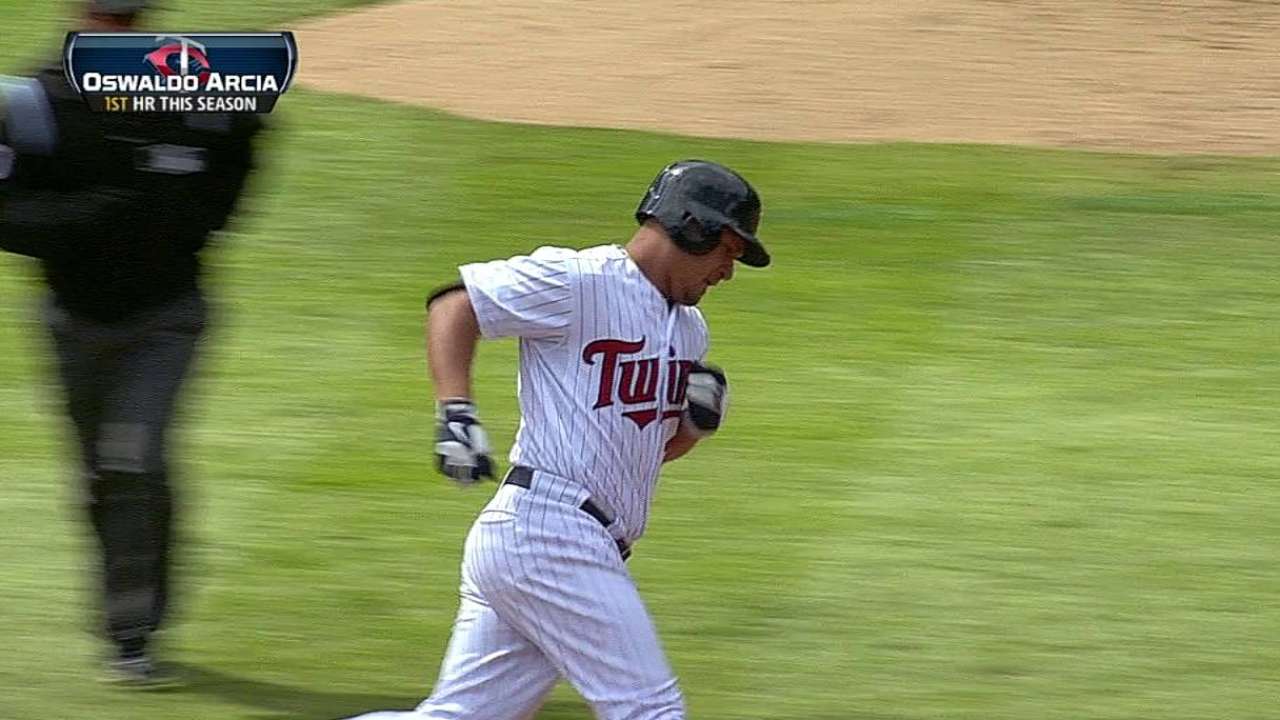 MINNEAPOLIS -- Twins manager Ron Gardenhire reiterated Thursday that he intends to play outfield prospect Oswaldo Arcia as much as possible, because he doesn't want to stunt his development by leaving him on the bench.
Arcia, ranked as the No. 93 overall prospect and as the Twins' No. 5 prospect by MLB.com, was in the lineup against the Rangers on Thursday, batting seventh and serving as designated hitter in place of Ryan Doumit.
He's currently on the roster because backup outfielder Darin Mastroianni is out with a left ankle stress reaction and is expected to miss a few more weeks.
"I've liked this kid forever and want to see him swing," Gardenhire said. "We're moving people around to try to get him in there one way or another. He's up here to swing. So we'll keep running him out there."
Gardenhire admitted it's been tough to keep all of his position players happy with playing time, because the club has already had four games postponed due to weather and had several off-days early in the season.
He's trying his best to play younger players who still need to develop, such as Chris Parmelee, Pedro Florimon, Brian Dozier and Arcia, and it's often come at the expense of backups such as Jamey Carroll, Wilkin Ramirez and Eduardo Escobar.
"Because of the days off, our starters don't feel like they've played a ton of games," Gardenhire said. "And our bench guys are wondering how much they're gonna sit. So with all the rainouts we've been juggling ... for example, a guy like Doumit is champing at the bit so much he probably could bite a bat in half."
Rhett Bollinger is a reporter for MLB.com. Read his blog, Bollinger Beat, and follow him on Twitter @RhettBollinger. This story was not subject to the approval of Major League Baseball or its clubs.