Mauer eyes two days off after facing Verlander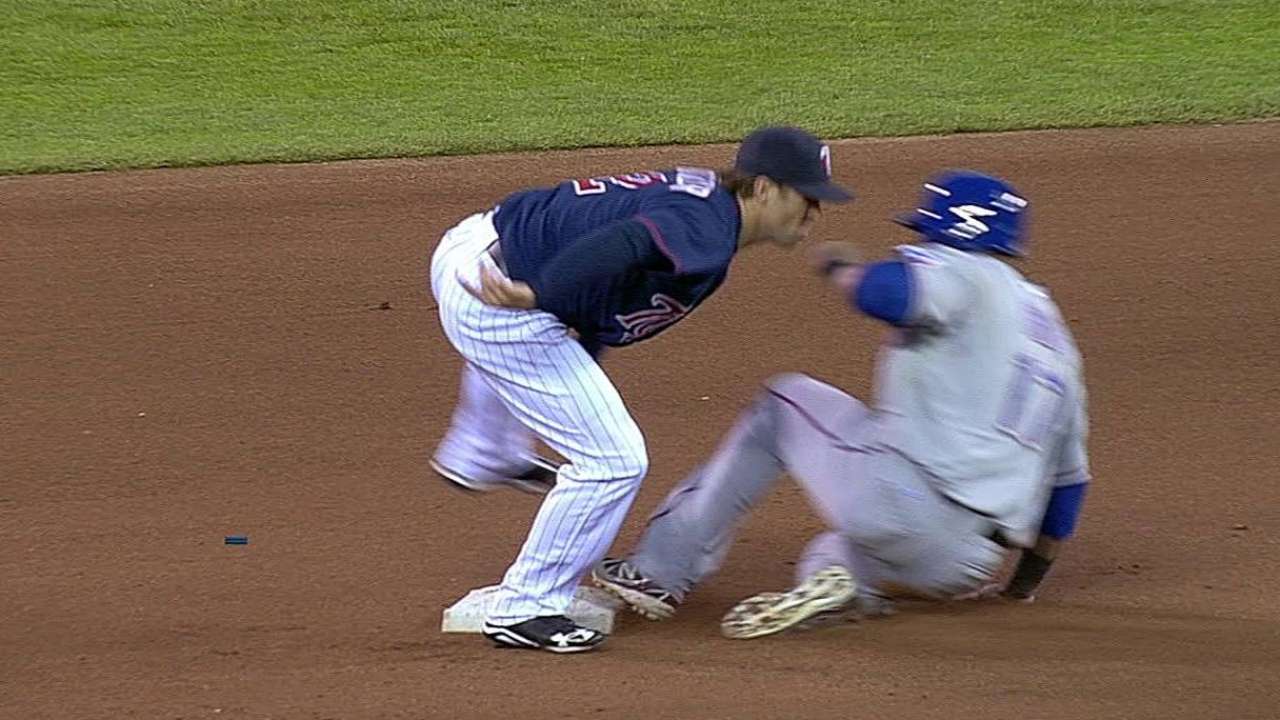 DETROIT -- Joe Mauer is the only Twin to play in all 23 games this season.
He also entered Tuesday's game hitless in his past five games. His 0-for-20 streak was the longest in his career, and a first-inning groundout made him 0-for-21.
Justin Verlander wouldn't seem to be a pitcher that could turn things around for him, but Mauer entered the evening with a .373 average against the Tigers ace -- the second-best all-time, behind Kansas City's Billy Butler. Mauer went 1-for-3 against Verlander in a 6-1 loss, snapping his hitless streak with a single in the third.
The Twins are off Thursday, but manager Ron Gardenhire would like to give Mauer a little more rest, especially after taking a foul ball off the arm Monday.
"Tomorrow's a day game, and I look at that, because of the off-day, as a chance to maybe get through tonight and see how [Ryan] Doumit is feeling," Gardenhire said. "He had a flu bug yesterday. We're trying to get him through that. But my goal is to maybe give [Mauer] tomorrow and have the off-day, back-to-back days. Get him through tonight, though.
"He's had success, and we need him in there against this guy, but yeah, we're trying to look to give him a couple days in a row. The way to do it would be the tomorrow --the day game -- and the next day."
Gardenhire was asked about moving Mauer out of the catching spot more frequently. Mauer has been the designated hitter five times and played first base once this year. If it means Mauer can be on the field more, Gardenhire would like to do it, but he knows Mauer wants to stay behind the plate.
"You talk about moving a person out when they want to move out of there, and Joe's pretty adamant that behind the plate is where he likes to be," Gardenhire said. "We're a better team with him behind the plate, no doubt about it, but I also understand, as a manager, that my goal is to keep him on the field. If you look at all the catchers, they get more days off than most guys. We're lucky Joe can play first base, I'm able to put him at DH and give him plenty of breaks.
"I know he said he'd like to catch 120-plus this year, but I just want to see him playing out there about 140 times, whether it's DH, first base, a little bit of catching. We'll give him a few days off, but keeping him on the field is important. Right now, he feels great."
Chris Vannini is a contributor to MLB.com. This story was not subject to the approval of Major League Baseball or its clubs.