Parmelee, Twins wear 'flashy' pink Mother's Day gear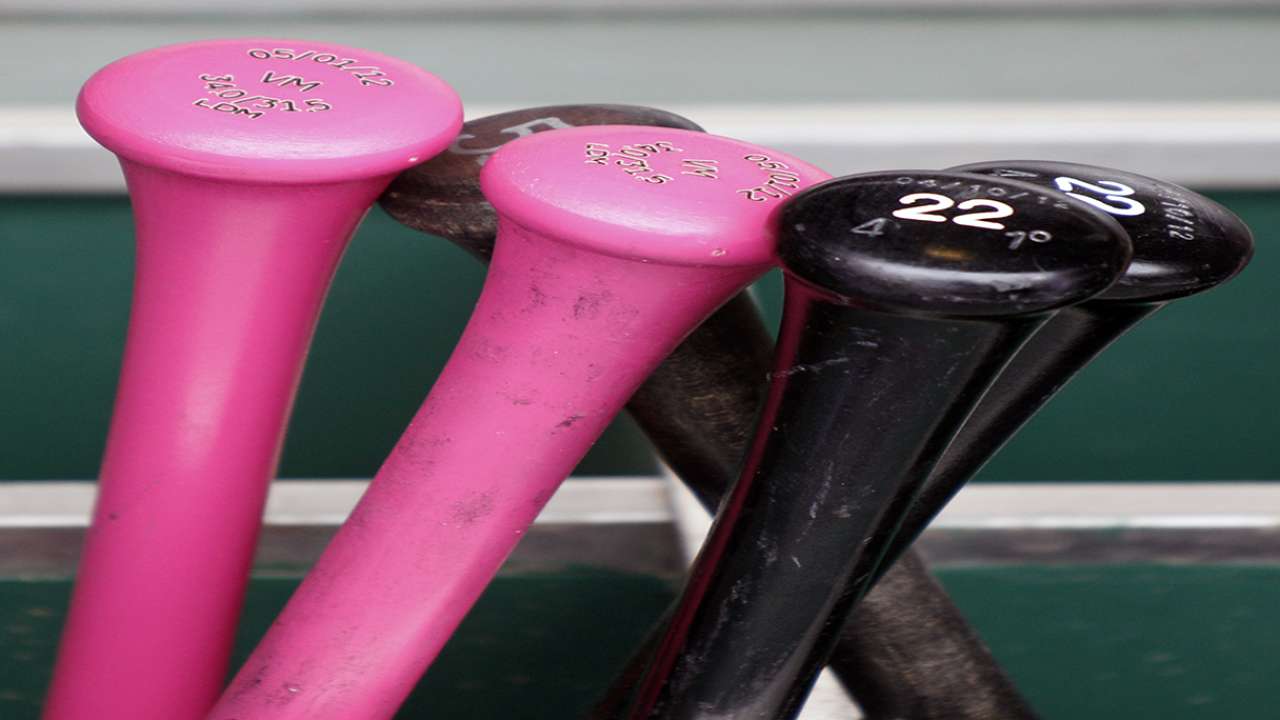 MINNEAPOLIS -- Chris Parmelee couldn't help but smile when asked about his bright pink cleats.
He called them "flashy," but he said he was excited to don the specially made Under Armour cleats on Mother's Day on Sunday to honor his mom, Robyn, and his wife, Amanda, who gave birth to their first child, a boy named Jack, on Aug. 20.
"It's a huge thing," Parmelee said. "I'm glad Under Armour was able to send them out. They're definitely flashy to wear for one day. But it's for a great cause to raise money for breast cancer awareness and to show all the mothers out there we appreciate what they do. So it's a fun thing and a fun day."
Parmelee wasn't the only Twins player to wear the pink cleats, as Brian Dozier and Trevor Plouffe also wore them on Sunday.
Dozier, along with Wilkin Ramirez, also was one of two Twins players to use pink bats made by Louisville slugger. Plouffe, whose mom, Diane, is a breast cancer survivor, also used a black bat made by MaxBats that had a pink logo, as only Louisville Slugger can have a logo on a fully pink bat.
"I called her today and wished her a happy Mother's Day," Plouffe said. "It's important to me because she battled breast cancer, but our family is fortunate enough she beat it. So it's a great to raise awareness and raise some money."
Dozier and Ramirez were two of hundreds of MLB players who used pink bats made by Louisville Slugger, the Official Bat of Major League Baseball, stamped with the MLB breast cancer awareness logo.
To further demonstrate their support for the breast cancer cause, players and on-field personnel also wore the symbolic pink ribbon on their uniforms along with pink wrist bands and batting gloves.
Those pink bats used in games and signed by teams are also authenticated by MLB, and then presented exclusively at the MLB.com Auction site at a later date to raise additional funds for the Susan G. Komen Breast Cancer Foundation.
Rhett Bollinger is a reporter for MLB.com. Read his blog, Bollinger Beat, and follow him on Twitter @RhettBollinger. This story was not subject to the approval of Major League Baseball or its clubs.