Twins option starter Hernandez, recall reliever Thielbar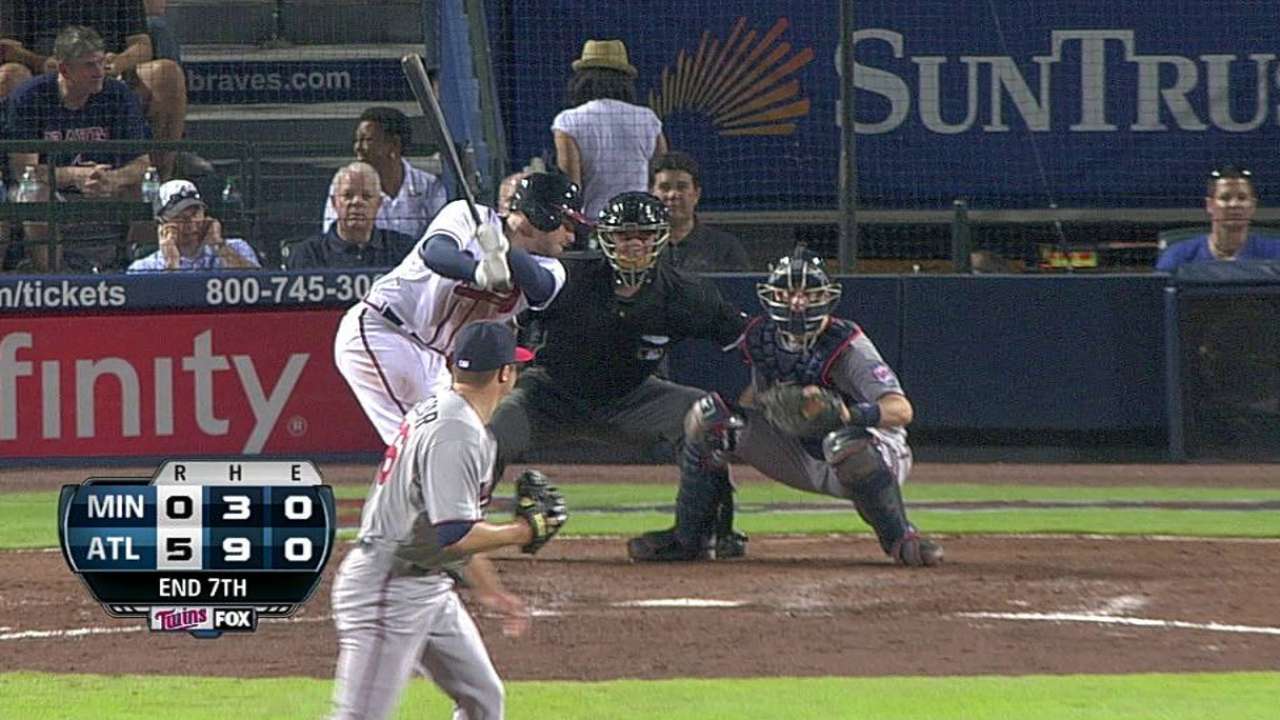 ATLANTA -- The Twins optioned struggling left-hander Pedro Hernandez to Triple-A Rochester on Monday and recalled left-handed reliever Caleb Thielbar from Rochester to take his place on the roster. The Twins will recall a starting pitcher for Friday's game in Detroit.
Hernandez, 24, posted a 5.85 ERA with 17 strikeouts and 10 walks in 32 1/3 innings. He lasted just 4 1/3 innings in his start on Sunday against the Red Sox, giving up three runs on nine hits, to get the loss.
"He had a lot of two-strike hits against him, so that shows he needs a put away pitch that can finish a hitter off," Twins manager Ron Gardenhire said. "He didn't finish off hitters yesterday. He got into counts where he had a chance but didn't make pitches. So he has things to work on, because we need him to go deeper into games."
Thielbar adds an eighth reliever to the club's bullpen depth, especially with Twins starters having trouble pitching deep into games recently. The 26-year-old Minnesota native also gives the Twins another lefty in their bullpen along with Brian Duensing and closer Glen Perkins.
Thielbar, who pitched for the independent league St. Paul Saints in 2011 before being signed by the Twins, had a 3.76 ERA with 34 strikeouts and eight walks in 26 1/3 innings with the Red Wings. Thielbar didn't land in Atlanta until about 50 minutes before the game, but was activated in time and hurled two scoreless innings in his big league debut during Minnesota's 5-1 loss.
"He's another arm out there, because we've killed the rest of the guys, as we've talked about," Gardenhire said. "But having another lefty out there, you can take a shot with Duensing to get a lefty out. So this gives us another option. We can use Caleb early and maybe Duensing a little later."
With Hernandez out of the rotation, the Twins will recall Kyle Gibson, Samuel Deduno or P.J. Walters for Friday's start in Detroit, according to Gardenhire.
Gibson is coming off a three-hit shutout on Sunday, while Walters turned in his sixth straight quality start with Rochester on Saturday. Deduno, who started the year injured with a strained groin, is slated to start on Tuesday. Right-hander Cole De Vries, however, can't be used because he was optioned to Rochester on Saturday and needs 10 days in the Minors before he can be recalled.
"I have choices and I like them all -- they've all thrown the ball very well for us at one time or another," Gardenhire said. "We haven't had Gibson up here at all, but he just had a good start, but had a really bad one before that. We know what Deduno does. And Walters has pitched very well. So there's three options right there."
Rhett Bollinger is a reporter for MLB.com. Read his blog, Bollinger Beat, and follow him on Twitter @RhettBollinger. This story was not subject to the approval of Major League Baseball or its clubs.