Colabello called up as Plouffe hits 7-day DL
Mastroianni moved to 60-day DL to make room for infielder/outfielder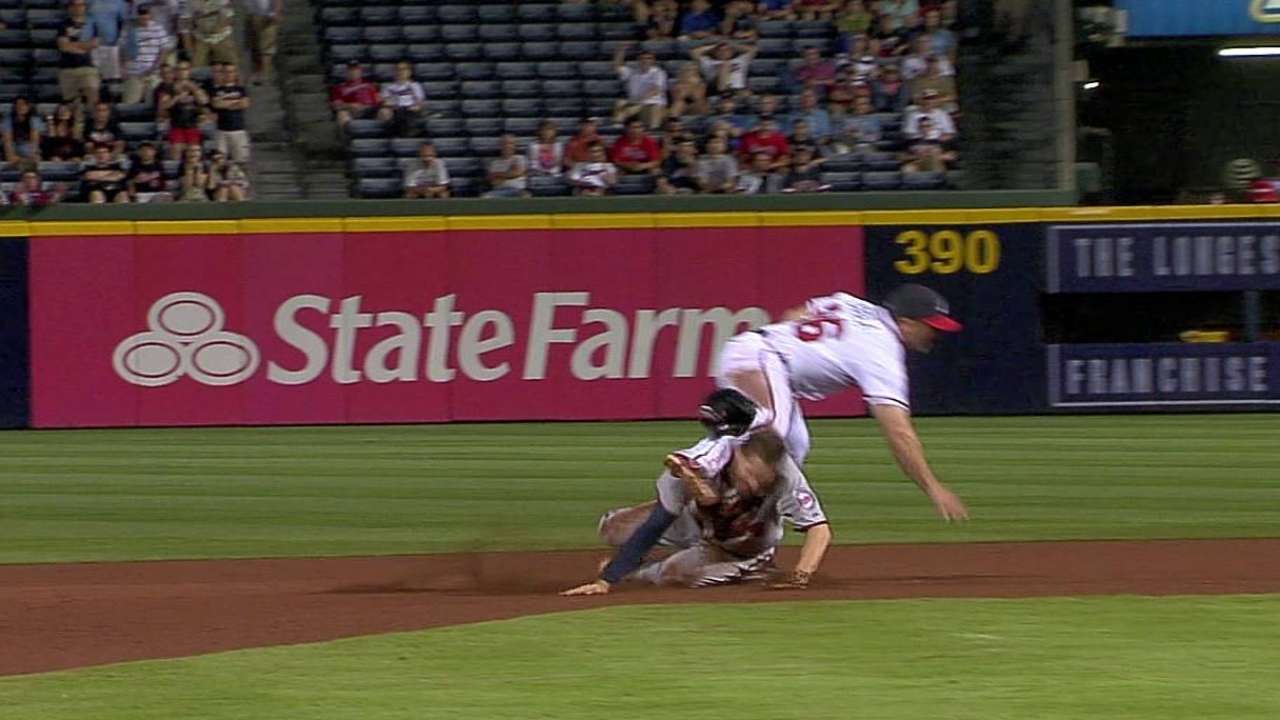 ATLANTA -- The Twins made a slew of roster moves before Wednesday's game against the Braves, placing third baseman Trevor Plouffe on the 7-day disabled list with concussion-like symptoms and recalling infielder/outfielder Chris Colabello from Triple-A Rochester.
The Twins also placed outfielder Darin Mastroianni, who is set to have ankle surgery on Wednesday, on the 60-day disabled list to make room for Colabello on the 40-man roster. Mastroianni was originally placed on the 15-day DL on April 16, but he isn't expected to return until July.
Plouffe, who was kneed in the head by the Braves' Dan Uggla while sliding into second base in the 10th inning of Tuesday's 5-4 loss, said he passed his initial concussion tests but still showed symptoms of a possible concussion.
"I passed my concussion test, but I think my initial reaction made them think twice about it," Plouffe said. "I was a little foggy and a little dazed and sensitive to the light. But I'm feeling a lot better today."
Plouffe will be reevaluated on Friday when he takes the ImPACT test to determine whether he has a concussion or just showed symptoms after the initial blow to the head.
"The doctor examined him, but as far as the ImPACT test, we'll wait a couple days for that," Twins assistant general manager Rob Antony said. "He had some symptoms, and therefore, to play it safe, we opted to use the 7-day DL to give him a few days and do the test and give him a chance to make sure everything is clear."
Plouffe's injury provided an opportunity for Colabello to get his first callup to the big leagues. The infielder/outfielder made his Major League debut in right field in the finale against the Braves. It was a long time coming for Colabello, who played in the independent Can-Am League for seven years until joining the Twins organization last year.
The 29-year-old forced the Twins' hand, hitting .358 with 12 homers and 39 RBIs in 46 games at Rochester to get the promotion. He said he didn't find out until about 1 a.m. on the team bus and barely made his 6:25 a.m. flight from Rochester to Atlanta.
"It was a little bit of shock, a little bit of tears, a little bit of laughter -- so a lot of emotions, I guess," Colabello said. "Everyone was so thrilled. To be able to share that with those guys and to see the excitement that a lot of those guys on the bus had for me was one of the things that was the most special about the moment. Because to a man, everyone came up to me and gave me a big hug and congratulated me. So it was pretty awesome."
Colabello's natural position is first base, but he has been taking fly balls in the outfield over the past three weeks to prepare for a potential promotion. He made three starts in right and one in left to get ready for the possibility of seeing time in the outfield with the Twins.
"I feel OK in the outfield," Colabello said. "It's a matter of the more time out there the more comfortable you feel. So I'll go out there and play the game and see what happens."
Rhett Bollinger is a reporter for MLB.com. Read his blog, Bollinger Beat, and follow him on Twitter @RhettBollinger. This story was not subject to the approval of Major League Baseball or its clubs.