Walters to get called up and start Saturday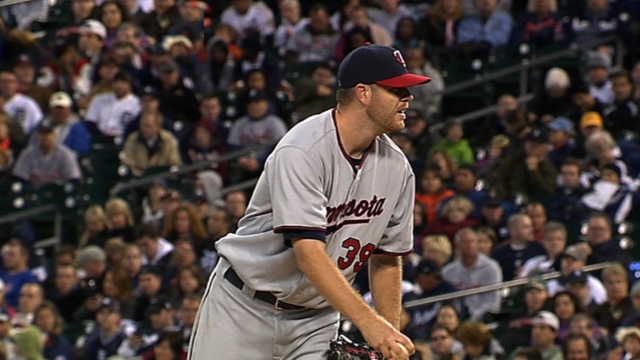 DETROIT -- Right-hander P.J. Walters will be recalled from Triple-A Rochester before Saturday's game to make his first start of the season against the Tigers.
The Twins will wait until Saturday to make the move official, but they did clear room for him on the 25-man roster by optioning outfielder Oswaldo Arcia to Rochester after Friday's 6-0 loss. But they still need to make a 40-man roster move to make room for Walters on Saturday.
Twins manager Ron Gardenhire said it was a difficult decision to send down Arcia, who is ranked as the Twins' No. 5 prospect and No. 93 overall, according to MLB.com. Arcia hit .255 with four homers and 14 RBIs in 30 games with the Twins but ended in a 3-for-32 slide before his demotion.
"It was really hard, but we had very little options with our infield situation," Gardenhire said. "But I like his fire, the way he goes about it and I like him around the clubhouse. But unfortunately he's in a little bit of stretch here where he's chasing. So this can help him."
Kevin Correia, who was slated to start on Saturday, will now be pushed back to Monday against the Brewers with Mike Pelfrey remaining on normal rest to start on Sunday against the Tigers.
"We haven't made any official announcements, but we have a TBA tomorrow, so it's safe to say he'll be our starter," Twins assistant general manager Rob Antony said before Friday's game. "But we'll make a corresponding move and announce that tomorrow before the game."
Walters, 28, fared well in nine starts with Rochester, posting a 3.31 ERA with 46 strikeouts and 16 walks in 54 1/3 innings. Walters, who had a 5.69 ERA in 12 starts with the Twins last year, also turned in six straight quality starts to earn the promotion.
He was picked over Twins prospect Kyle Gibson, who also pitched well in nine starts with Rochester with a 3.25 ERA and 46 strikeouts and 14 walks in 52 2/3 innings. But Gibson, who has thrown shutouts in two of his last three outings, has yet to record back-to-back quality starts this season.
Antony said he understands the frustration from fans about the Twins keeping Gibson in the Minors, but he said the club needs to see more consistency from him before they declare him ready to make his big league debut. Gibson is ranked as the Twin's No. 4 prospect and No. 49 overall.
"It's understandable because we want to see him, too," Antony said. "We're talking about a guy we're hoping will be part of our rotation for years to come. So we want to do it right and bring him up when the time is right when he's going good, so that it gives him the best chance to succeed."
Rhett Bollinger is a reporter for MLB.com. Read his blog, Bollinger Beat, and follow him on Twitter @RhettBollinger. This story was not subject to the approval of Major League Baseball or its clubs.