Gardenhire ejected in third vs. Tigers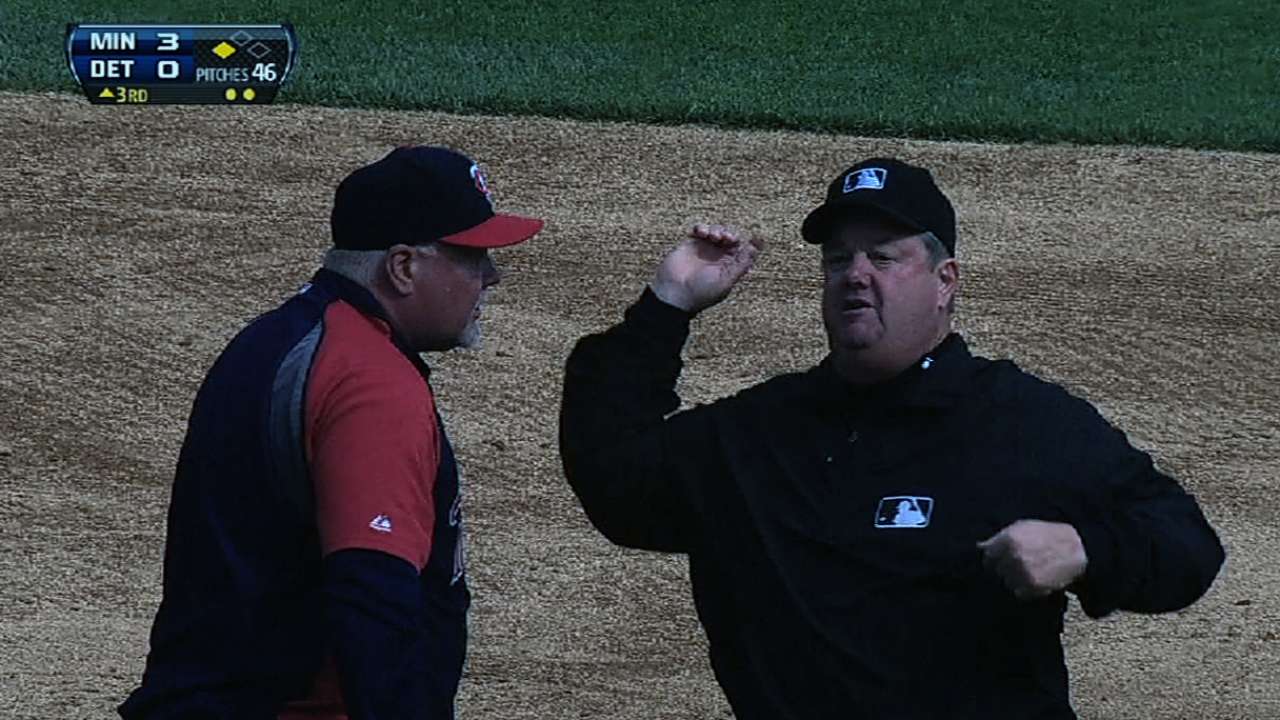 DETROIT -- Twins manager Ron Gardenhire was ejected by second-base umpire Joe West for arguing a call in the third inning of Saturday's 3-2 win over the Tigers.
West ruled that Josh Willingham interfered while sliding into second base to break up a potential double-play ball hit by Justin Morneau with Joe Mauer on second base. Mauer had to return from third base to second base on the double play because of the interference call.
Gardenhire went out to argue with West and was thrown out of the game. It was the second time he has been thrown out of a game this year, as he was tossed April 28 against the Rangers for arguing with Alfonso Marquez.
"The ruling was that I got thrown out of the game," Gardenhire said. "He didn't slide close enough to the base I guess and didn't touch second base or something like that. He said he was just trying to protect the defender. Just like he used to protect me when I played, that's what he told me. I said, 'Joe, I didn't play that much.'
"I just got thrown out. It happened pretty quickly. He told me not to point at his dirt, and I pointed at his dirt."
It was the 64th time in his career that Gardenhire was ejected, and he leads all active managers.
Willingham also said he was surprised by the call, as he slid directly at second base but did not touch the base, which was grounds for interference, according to West's ruling.
"I was stunned," the 10-year veteran said. "I hadn't heard it explained to me that way before. He told me I didn't make an attempt to touch the bag, and he was correct. But the bag was right there. Maybe he was right with the rulebook, but I've never been called out for sliding that close to the bag."
Rhett Bollinger is a reporter for MLB.com. Read his blog, Bollinger Beat, and follow him on Twitter @RhettBollinger. This story was not subject to the approval of Major League Baseball or its clubs.