After new diagnosis, Ramirez placed on DL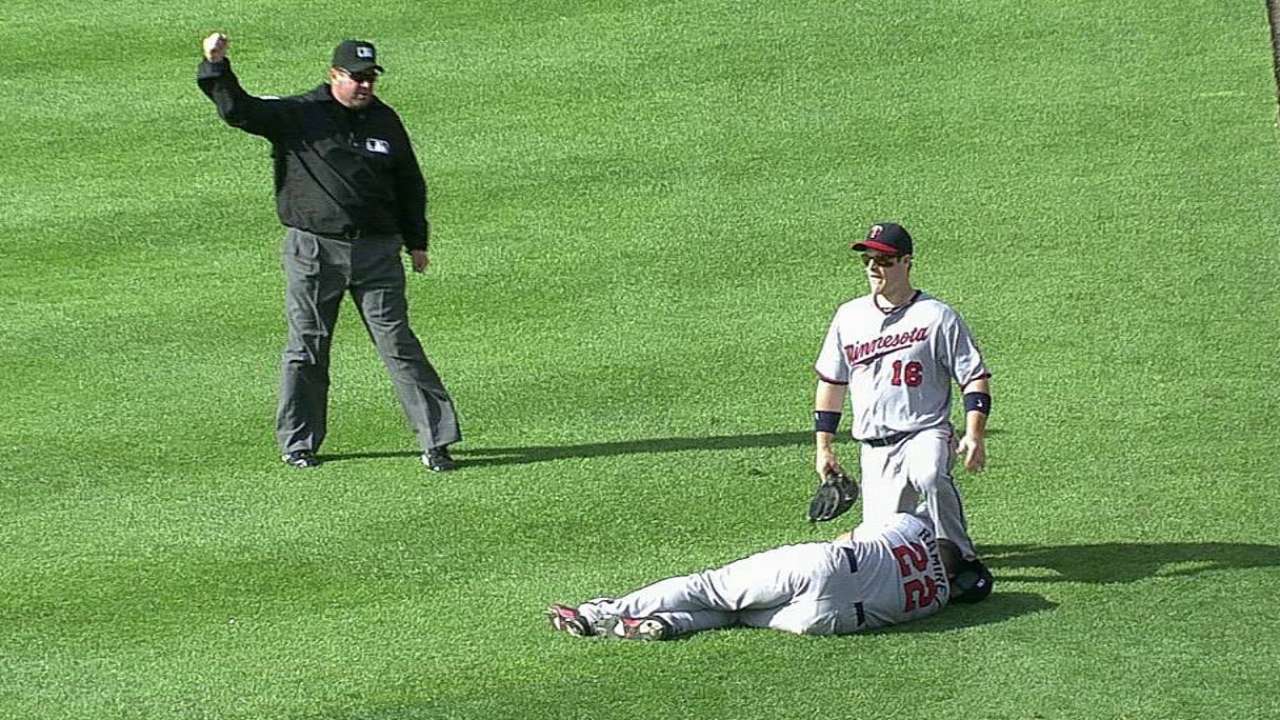 DETROIT -- The Twins placed outfielder Wilkin Ramirez on the seven-day disabled list with concussion-like symptoms after Sunday's 6-1 loss to the Tigers. To replace Ramirez on the roster, the Twins will recall catcher/outfielder Chris Herrmann from Triple-A Rochester in time for Monday's game against the Brewers.
Twins manager Ron Gardenhire had said during his pregame media session that Ramirez was fine after colliding with Josh Willingham in left-center field in the sixth inning of Saturday's game. The initial diagnosis was a sore jaw, but Detroit's team doctor later ruled that Ramirez was exhibiting concussion-like symptoms.
"The doctors said that it was the right thing to do," Gardenhire said. "They said he'd be out three to four days, and we can't afford that right now. Going into a National League park you're going to be thin anyway [without the designated hitter]."
Ramirez, however, expressed the belief that he did not have a concussion. He said the problem was that the doctor asked him to repeat the months of the year backward, and the Dominican Republic native was unable to do so.
"I feel the same," Ramirez said. "The doctor asked me some questions, and I answered. So I don't know. I'm very disappointed right now."
Ramirez said he would talk to Glen Perkins, the Twins' union player representative, to see if he could appeal the decision. Perkins said he would look into the matter and was unsure if Ramirez could appeal.
"If he asks me, I'll have to look into it," Perkins said. "I don't really know. I just know concussions are an issue in all sports. So I'll have to dig into it a little bit. I would imagine he'll have to spend the seven days."
Herrmann, meanwhile, hit .238/.311/.285 with no homers, five doubles and 12 RBIs in 43 games with Rochester. He started 29 games behind the plate with seven starts in left field and five starts at designated hitter.
He saw his first Major League action last year, when he played in seven games as a September callup, going 1-for-18 with an RBI and a walk.
Rhett Bollinger is a reporter for MLB.com. Read his blog, Bollinger Beat, and follow him on Twitter @RhettBollinger. This story was not subject to the approval of Major League Baseball or its clubs.