Colabello gets game ball after first career hit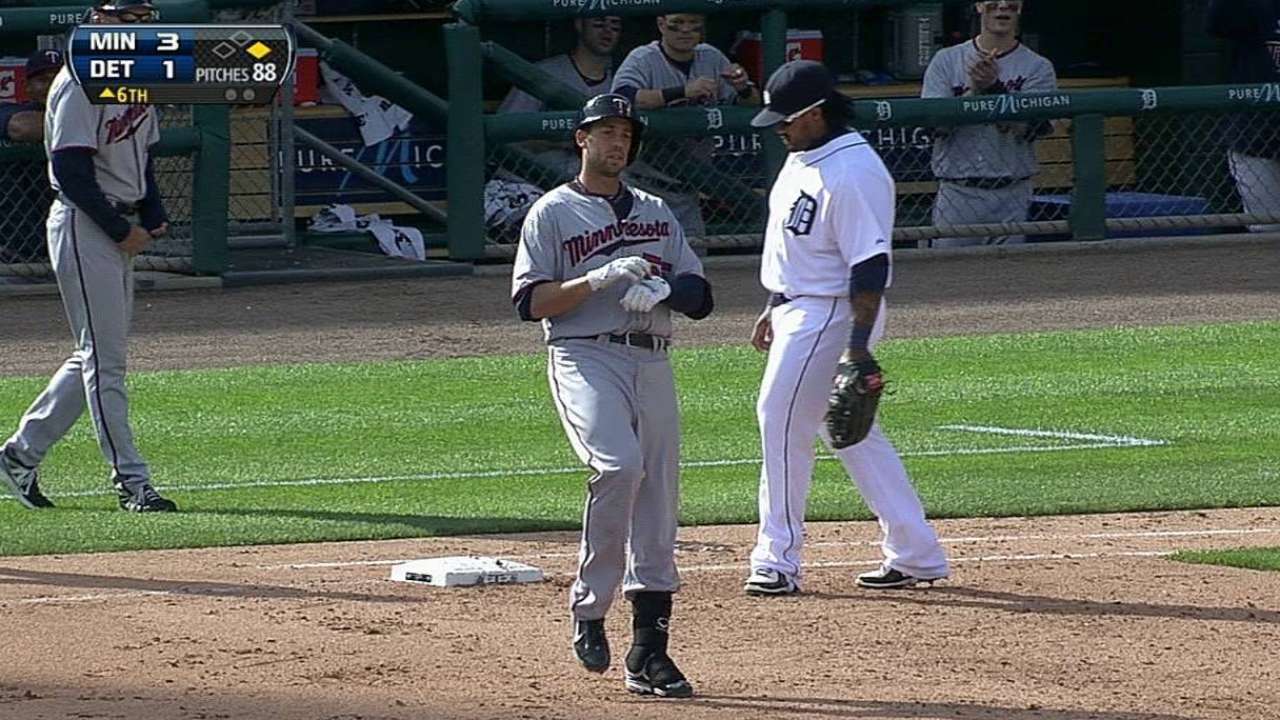 DETROIT -- It was a long wait for Chris Colabello to get his first Major League hit, but considering everything he went through just to get to the big leagues, it was even more special.
Colabello, who played seven years in the independent Canadian-American League before joining the Twins organization last year, finally got his first shot in the Majors when he was called up Wednesday after impressing at Triple-A Rochester.
And Colabello delivered his first hit in his eighth career at-bat with a single up the middle in the sixth inning Saturday off Tigers right-hander Doug Fister in Minnesota's 3-2 win.
"It was awesome, and to do it in a win was even more special," Colabello said. "It's crazy because you go through a couple of at-bats and want to get it out of the way, and so when I saw the ball go through I felt like two big weights were coming off my shoulders. So it was pretty neat."
Colabello, 29, was presented the ball after the game by manager Ron Gardenhire and said all of his teammates came up to him to congratulate him.
"It was really cool," Colabello said. "They came in and gave me the ball, and everyone came up to me and shook my hand."
Colabello, a Milford, Mass., native, was also able to get the hit in front of several family members and friends, including his parents, Lou and Silvana, and his girlfriend, Alison Connor. He said he gave his parents the ball to take home after the game.
But Gardenhire had to watch from the clubhouse, as he was ejected from the game in the third inning for arguing with second-base umpire Joe West.
"It looked really cool on TV, but it would've been nicer to see from the dugout," Gardenhire said with a laugh. "But the ball was riding on him, and he was able to fight it off and shoot it up the middle. So it was a long wait for a guy who has persevered through a lot. A lot of people told him it wouldn't work out for him, but he never quit and he got his opportunity and now he got his hit, so it's a pretty good story."
Rhett Bollinger is a reporter for MLB.com. Read his blog, Bollinger Beat, and follow him on Twitter @RhettBollinger. This story was not subject to the approval of Major League Baseball or its clubs.