Twins select high school lefty Gonsalves in Round 4
Twins select high school lefty Gonsalves in Round 4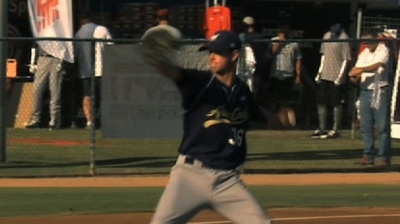 With their fourth-round pick (No. 110 overall), the Twins drafted high school left-hander Stephen Gonsalves.
Gonsalves had a very good summer in 2012, pitching well at the Area Code Games in California and the Perfect Game All-American Classic at Petco Park in San Diego, though an inconsistent spring had some wondering just how high he'd go on Draft day.
"We see him as a starting pitcher; he has starting pitcher potential," scouting director Deron Johnson said. "He's a big body guy, he's about 6-5. Really athletic, has good arm action. He can run it up to 93-94 [mph] on occasion."
This year's MLB First-Year Player Draft has plenty of talent as far as high school southpaws are concerned, and with his size and projectability, Gonsalves -- from Cathedral Catholic High School in San Diego -- has the upside to be the best of the group.
The lefty uses a full overhand delivery to fire 88-91 mph fastballs, though he was up to 93 at the Perfect Game Classic last summer. He'll throw a plus changeup at times to go along with a slurve, which was a bit of a concern to scouts.
"Like any high school guy, he's had his ups and downs this year," Johnson said. "But he's a good athlete. ... He's got a pretty good delivery, his arm works pretty good. His breaking ball is a little short right now, but we think he's going to have a slider down the road. We really like his fastball coming in. He throws it over. He's got good life on his fastball."
Over the 2013 season, the 6-5, 190-pound lefty went 10-0 with a 1.91 ERA. He was also named Rawlings First Team All-American, California All-Region First team.
Kelly Erickson is an associate reporter for MLB.com. This story was not subject to the approval of Major League Baseball or its clubs.