Thomas fitting in while Hicks rests hamstring
Thomas fitting in while Hicks rests hamstring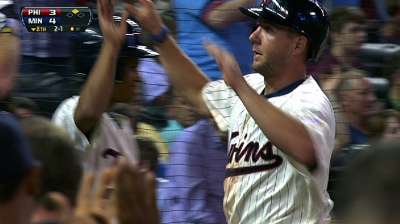 MINNEAPOLIS -- Center fielder Aaron Hicks, who was placed on the 15-day disabled list on Monday with a strained left hamstring, said he's feeling better but that it's still too early to pinpoint a return date.
Hicks strained his hamstring in the second game of Sunday's doubleheader against the Nationals while trying to beat out a grounder hit to third base. The rookie said it's the first time he's suffered a hamstring injury.
"It's starting to feel better," said Hicks, who is eligible to return on June 25. "It's all about rehab and trying to get better."
With Hicks out, Clete Thomas will be the club's regular center fielder, and he had a breakout game on Wednesday. Thomas had a career-high four hits, drove in the tying run on an RBI double, and scored the winning run on a wild pitch in the eighth inning of the Twins' 4-3 win.
Thomas said it's nice knowing he'll be getting regular playing time, as he's mostly seen action as a part-timer in parts of four seasons in the big leagues. He has played in 145 games with the Tigers and 19 with the Twins, including Thursday's game against the Phillies.
"That's always helped, being a regular every day," Thomas said. "You get to keep your timing, you're not wondering if you're going to go in late or pinch-run or go play defense or pinch-hit. You're going to be in there and it's your spot right now. I'm going to do the best I can."
Rhett Bollinger is a reporter for MLB.com. Read his blog, Bollinger Beat, and follow him on Twitter @RhettBollinger. This story was not subject to the approval of Major League Baseball or its clubs.