Parmelee spells Willingham on Saturday
Parmelee spells Willingham on Saturday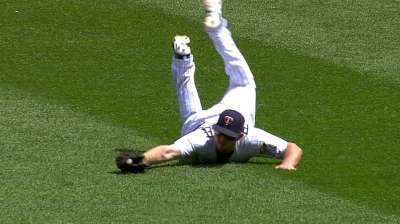 CLEVELAND -- In starting Chris Parmelee in right field on Saturday, Twins manager Ron Gardenhire hoped the 25-year-old would put together quality at-bats while building confidence at the plate.
Parmelee's most recent start came in Detroit last Sunday, when he went 0-for-3 with a trio of strikeouts. In 63 games this season, Parmelee is batting .222 (40-for-180) with five home runs and 14 RBIs. The right-fielder is 7-for-38 in June.
"I just think he needs at-bats, and it's hard to get them when other people are swinging good," Gardenhire said. "He just needs at-bats. We'll see. Normally, if you're not getting hits, your confidence isn't as high as it could be. It only takes one or two hits and he'll be soaring again."
Gardenhire also thought Saturday would be a good day to sit Josh Willingham, who received a cortisone shot in his left knee a week ago. With a pair of games in Miami coming up, Gardenhire wants to make sure his backup players see action in Cleveland.
"You got to use your bench a little bit, at least in this series, and try to get him some swings, because [in the] National League, you're very limited," Gardenhire said. "You lose another player out of the lineup. You got to kind of plan ahead here, try to win ballgames and get him some swings, get some confidence going with him, too."
Parmelee has appeared at right field, center field and first base in 2013. Over 148 career games since 2011, he owns a .248/.321/.402 slash line with 14 home runs and 48 RBIs.
"It's part of the learning process," Gardenhire said. "You have to be able to accept whatever role and you have to be able to make adjustments as a player. For younger players, it's not that easy."
Mark Emery is an associate reporter for MLB.com. This story was not subject to the approval of Major League Baseball or its clubs.