Increase in homers a welcome sight for Gardenhire
Increase in homers a welcome sight for Gardenhire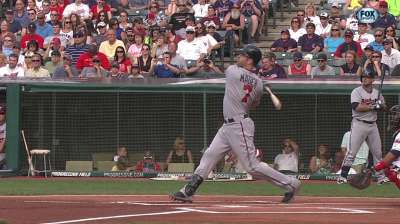 CLEVELAND -- Despite 14 home runs in seven games, the Twins still have just 68 long balls on the year entering Sunday, second to last in the American League.
For manager Ron Gardenhire's club, home runs are important. The skipper said Minnesota relies on balls that go over the fence more than usual because of how the roster is tailored.
"I think we probably live with that more than we do the rest of the game," Gardenhire said. "We don't have a lot of speed. We're not a team that can run all over the place. We're not a hit-and-run team. We don't really have a lot of bat-control guys in the lineup, maybe the top and the bottom. So, we have to rely on balls flying out there deep off the wall or over the wall. That's kind of what we look for, like I said, because we're not a real big speed team."
Minnesota has homered in seven straight games. In the previous six, the Twins knocked just one out of the yard.
As of Sunday, the Twins have 33 home runs at home and 35 on the road. They've posted round-trippers in 20 of their last 25 games away from Target Field.
"Easiest way to manage is two- and three-run homers," Gardenhire said. "Believe me. I like watching the ball fly."
When it comes to stolen bases, Minnesota has 23. In the AL, only Detroit has fewer (22).
"We're not a speed team," Gardenhire said. "We have to be able to drive the baseball. We're going to probably live and die with that, because we don't run a lot. We just don't have the speed. Even 3-2 counts. I used to run all the time [on] 3-2. But, really, there's not much advantage to it anymore. We don't move very well."
Mark Emery is an associate reporter for MLB.com. This story was not subject to the approval of Major League Baseball or its clubs.