Twins grant Perkins' extra work request
Twins grant Perkins' extra work request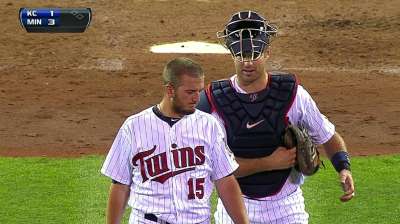 MINNEAPOLIS -- Left-hander Glen Perkins asked for more time on the mound and his wishes were fulfilled. The Twins closer preserved a 6-2 win over the Royals on Saturday in a non-save situation.
Perkins has seen limited action of late with only three appearances in the Twins' last six games -- two were save situations. But with a three-day break between his save at Cleveland last Sunday and his most recent save in Thursday's 3-1 win over the Royals, Perkins approached both manager Ron Gardenhire and pitching coach Rick Anderson about getting in more work.
"He basically said he needs to pitch more," Gardenhire said. "He needs more times on the mound. You saw his save the other night and that's just because he's not pitching enough right now. We need to get him into the game."
In his save on Thursday -- No. 20 -- Perkins issued a walk and gave up a two-out double, putting the potential tying run on second, before inducing Miguel Tejada's grounder to end the threat.
With a four-run lead heading into the ninth inning on Saturday, Gardenhire and Anderson decided to give Perkins the ball in the final frame to get him the extra work he asked for.
"The kid wants to pitch more and get on the mound," Gardenhire said. "To get his pitches and have a better feel for them. I understand."
Kelly Erickson is an associate reporter for MLB.com. This story was not subject to the approval of Major League Baseball or its clubs.