'A little beat up,' Mauer out of lineup against Yankees
'A little beat up,' Mauer out of lineup against Yankees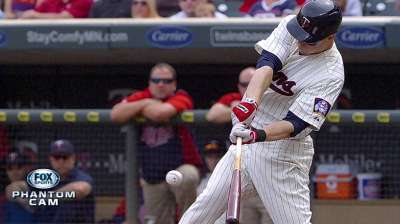 MINNEAPOLIS -- Twins catcher Joe Mauer was held out of the lineup on Monday against the Yankees with Ryan Doumit making the start behind the plate instead.
Mauer said he's not injured but is simply dealing with some soreness and is one of several Twins players battling a minor illness.
"I'm all right," Mauer said. "I'm just a little beat up and under the weather. I came in ready to go, but today was just a good day to take a breather here. I don't know if it's allergies or what going around the clubhouse but it's found its way to me, too."
Mauer went 0-for-15 over the weekend against the Royals and Twins manager Ron Gardenhire could tell that it was time to give Mauer a break. Mauer leads the Twins with 74 games played, including 50 starts behind the plate.
"He's fine to play, but I told him we'll just chill out here," Gardenhire said. "I thought he looked pretty draggy yesterday and we're going through a big stretch here. And if you're going to do it, do it against a guy like [Andy] Pettitte."
The Twins also don't have a day off until the All-Star break, which is another reason why Mauer started the game on the bench. Doumit, who is dealing with a sprained right ankle, also isn't ready to start in the outfield so he had to start at catcher while Josh Willingham is also being relegated to designated-hitter duty because of a sore left knee.
"We're in a big stretch here so this is the right thing to do," Gardenhire said. "I hate doing it at home, I've always said that, but he wasn't going to catch four in a row here at home. And Doumit can't play the outfield and Willingham can't go in the outfield so there you have it."
Rhett Bollinger is a reporter for MLB.com. Read his blog, Bollinger Beat, and follow him on Twitter @RhettBollinger. Kelly Erickson is an associate reporter. This story was not subject to the approval of Major League Baseball or its clubs.