Burton to be used in low-pressure situations
Burton to be used in low-pressure situations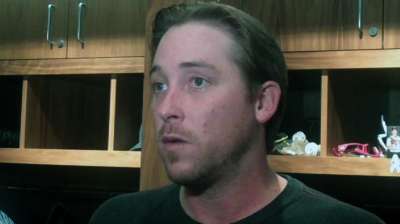 MINNEAPOLIS -- Right-handed reliever Jared Burton has been struggling recently, so manager Ron Gardenhire will try to use him in lower-pressure roles while he works through his issues.
Burton couldn't hold a one-run lead in the eighth inning of Minnesota's 10-4 loss to New York on Monday night, giving up three runs while recording just one out. He has an 11.00 ERA over his last 10 appearances dating back to June 6.
"You always try to say you'll get him in some nonpressure situations, but I don't know if there are those in the big leagues," Gardenhire said. "So we'll try to get him in some situations where it's not the eighth and a one-run lead. I talked to him, and he says his arm feels good, but he's just not putting away hitters right now. So we talked about a few other routes he can go with the way he attacks hitters."
Left-handed reliever Brian Duensing will also be used in lower-leverage roles for the time being, as he also struggled on Monday, giving up four runs over 1 1/3 innings. He has an 8.44 ERA over his last seven appearances.
"We'll give him some opportunities and try to see if we can get him feeling a little better, too," Gardenhire said.
Rhett Bollinger is a reporter for MLB.com. Read his blog, Bollinger Beat, and follow him on Twitter @RhettBollinger. This story was not subject to the approval of Major League Baseball or its clubs.