Young outfielders to play more with Willingham out
Young outfielders to play more with Willingham out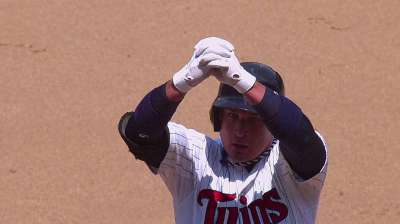 MINNEAPOLIS -- With Josh Willingham out of the lineup for the next few weeks, some of the Twins' younger outfielders will see their name in the lineup more often.
Willingham underwent surgery on his left knee on Wednesday and isn't expected to return for four to six weeks. The Twins reinstated center fielder Aaron Hicks from his own rehab assignment on Tuesday when they placed Willingham on the disabled list.
Willingham's absence leaves a hole in left field that lately has been filled by Oswaldo Arcia. With Hicks back in center, Chris Parmelee will see more time in right, and Clete Thomas will fill in as needed.
But no matter where they're standing come game time, each of the four outfielders will be getting more time at the plate.
"We're going to move some guys around," manager Ron Gardenhire said. "As I told the outfielders, we're going to do the best we can to keep everybody swinging. Arcia is going to get plenty of at-bats, Parms is going to get at-bats. We'll use Clete, mix and match as best we possibly can with him. These guys are going to get to play a little bit now and see if they can take advantage of it. We'll see what happens."
Rhett Bollinger is a reporter for MLB.com. Read his blog, Bollinger Beat, and follow him on Twitter @RhettBollinger. This story was not subject to the approval of Major League Baseball or its clubs.