Reliever Thielbar's scoreless-innings streak ends
Reliever Thielbar's scoreless-innings streak ends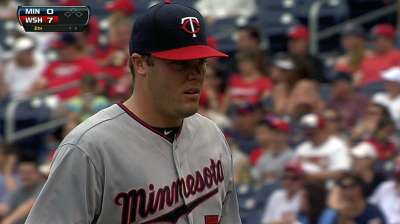 ST. PETERSBURG -- Lefty reliever Caleb Thielbar entered Monday's series opener at Tropicana Field with a streak of 19 2/3 scoreless innings, the longest active mark in the Majors, and he extended that streak to an even 20 innings with a big strikeout against Luke Scott with a runner on third in the seventh inning.
He hadn't allowed a run in 17 appearances, setting the Twins record for most consecutive scoreless appearances to start a Major League career. He hadn't even allowed a hit in nearly a full month. The last one was an infield single by Washington's Jeff Kobernus on June 9.
But those streaks couldn't last forever. Unfortunately for Thielbar and the Twins, they ended in a critical situation in Monday's 7-4 loss to the Rays, with Thielbar serving up a two-run homer to Rays second baseman Ben Zobrist.
"It's not going to change who I am. I'm not going to magically become a new pitcher overnight," Thielbar said. "I'm still going to go up there and attack hitters, throw strikes every night out. As far as that goes, nothing's going to change.
"It's not like I haven't dealt with it at every level. Basically just do the same thing that I did there. Tomorrow's a new day, so hopefully I'll get put into the same situation tomorrow, except for obviously we'd like to have the lead tomorrow."
Still, the rookie has a 0.45 ERA after 18 big league outings. What's been the key to his success? According to manager Ron Gardenhire, it's been a combination of Thielbar's great stuff, his ability to hide the ball and opposing hitters' lack of familiarity with him.
"People don't know him still. That's an advantage for a pitcher. Haven't seen a lot of him," Gardenhire said. "But [his] stuff, he comes right at you. He's flinging the ball. He hides the ball. He's got a nice little breaking ball. He can cut his fastball. He throws a nice little slider. Just looks like, to me, he hides the ball very well and, typical of a lefty, with a little bit of funk. He surprises people.
"We haven't seen teams really get a chance to face him more than one time right now, and that bodes well."
Adam Berry is a reporter for MLB.com. Follow him on Twitter at @adamdberry. This story was not subject to the approval of Major League Baseball or its clubs.