Gardenhire feeling better, back in dugout Monday
Gardenhire feeling better, back in dugout Monday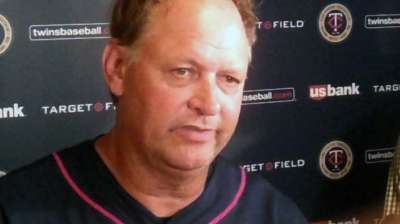 ANAHEIM -- After spending the previous two games in his office because of a stomach illness, Twins manager Ron Gardenhire returned to the dugout against the Angels on Monday.
Gardenhire was able to fly with the team from Minneapolis without any issues on Sunday night and said he felt much better on Monday.
He was well enough to make a joke at bench coach Terry Steinbach's expense, as Steinbach acted as manager in Gardenhire's absence.
"I can't take Steiny anymore -- he walks too slow to the mound," Gardenhire said with a laugh. "I feel better than yesterday. I'll put it that way. It was like a virus or food poisoning, so I'll take it for whatever it was. All I know is, I wasn't feeling too awful hot. But I feel better today and finally got some food in my stomach."
Rhett Bollinger is a reporter for MLB.com. Read his blog, Bollinger Beat, and follow him on Twitter @RhettBollinger. This story was not subject to the approval of Major League Baseball or its clubs.