Gardenhire open to using Perkins for multiple innings
Gardenhire open to using Perkins for multiple innings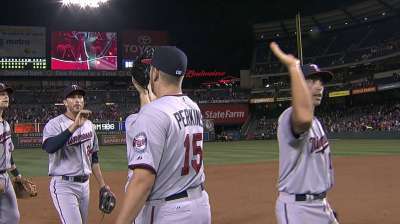 ANAHEIM -- Twins manager Ron Gardenhire used closer Glen Perkins for a four-out save for the first time on Monday against the Angels, and said he's not afraid to use him in a similar situation if it comes up again this season.
Gardenhire said he's had Perkins warm up in the eighth a few times this year, but used him for a multi-inning save for the first time on Monday. It was Perkins' 24th save this year and he's gone 19 1/3 innings without giving up a run, which is the longest such streak in the Majors.
"It just depends on the situation," Gardenhire said. "We have [Casey] Fien and [Jared] Burton throwing fantastic. And we have lefties we can use in [Caleb] Thielbar and [Brian] Duensing. So I just felt at that time with the first game on the road trip it was important to put our best pitcher out there and win this game."
Perkins came in with runners on first and third and gave up an RBI single to Collin Cowgill before being saved by left fielder Clete Thomas, who robbed Chris Iannetta of a go-ahead three-run homer. He also ran into trouble in the ninth, putting two runners on with one out, before striking out Albert Pujols and Howie Kendrick to end the game.
Gardenhire said the disadvantage of using Perkins in situations like that is that it limits his availability, as he threw 26 pitches in a high-leverage situation.
"He was gassed last night. I know that," Gardenhire said. "That extra third of an inning just about killed him. He threw 25 pitches and usually he can bounce back from that, but those were 25 hard pitches and that makes a big difference."
Rhett Bollinger is a reporter for MLB.com. Read his blog, Bollinger Beat, and follow him on Twitter @RhettBollinger. This story was not subject to the approval of Major League Baseball or its clubs.