Twins shuffle catchers with Mauer on paternity list
Twins shuffle catchers with Mauer on paternity list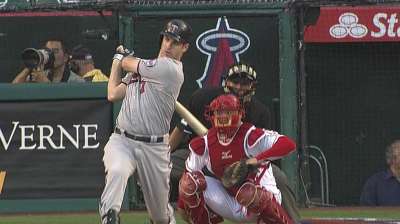 ANAHEIM -- The Twins officially placed Joe Mauer on the paternity list on Wednesday after he left the club on Tuesday to attend the birth of his twin daughters in Minnesota. Catcher Drew Butera was recalled from Triple-A Rochester to take Mauer's place on the roster.
Mauer was taking batting practice before Tuesday's game against the Angels, when he was told that his wife, Maddie, was going into labor with the couple's twins. Mauer was able to catch a flight back to the Twin Cities and made it just in time for the births of his daughters, Emily and Maren, according to Twins manager Ron Gardenhire.
"Congratulations to the Mauers -- good stuff," Gardenhire said. "I saw the thing going across [the television screen] and it said 'Royal baby,' but then I realized it was the one in England. So it's a pretty cool deal for everyone around here. We're all excited."
Mauer can be on the paternity list for a maximum of three days, which means he has to return for Saturday's game against the Mariners, or else he has to be placed on the restricted list.
"We have not talked to him or asked him about that, but I'm assuming Joe will want to join as soon as he can," Twins assistant general manager Rob Antony said. "He has to be back with us Saturday or else we'll have to do some paperwork."
With Mauer out of action, the Twins went with Butera as Gardenhire wanted three catchers, especially because Ryan Doumit and Chris Herrmann are also rotating as starting right fielders. Butera, who was hitting .215 with two homers and 10 RBIs in 25 games with Rochester, got to the park just in time for the game, but Doumit started behind the plate and Herrmann started in right field.
"We lose a catcher, because both of my catchers are going to be playing with one behind the plate and one in right so you like to have a third catcher," Gardenhire explained. "If something happens to one of those guys, you need protection."
Rhett Bollinger is a reporter for MLB.com. Read his blog, Bollinger Beat, and follow him on Twitter @RhettBollinger. This story was not subject to the approval of Major League Baseball or its clubs.