Gardenhire reaches out to ailing Wedge
Gardenhire reaches out to ailing Wedge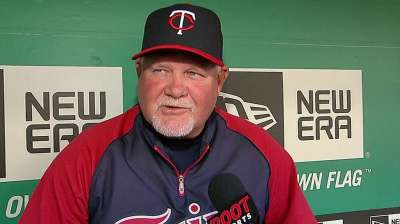 SEATTLE -- A few hours before the Twins faced the Mariners on Thursday, Minnesota manager Ron Gardenhire sent a text message to his counterpart for Seattle, Eric Wedge, who will miss at least the next 10 games after suffering a mild stroke on Monday.
"I just sent a text to him to make sure he was OK ... It's a band of brothers here, so you're always thinking about each other when this stuff happens. [I'm] very concerned about him and I'm glad he's doing OK and better."
Gardenhire knows all too well the challenges a club faces when the manager is physically unable to be with the team. The Twins' skipper skipped Saturday's game last week and was relegated to the clubhouse on Sunday while battling the flu.
"I kind of know firsthand, I've been sick a couple times myself," Gardenhire said. "It's a stressful job and you do a lot of thinking about it and a lot of worrying about it. You try to do the right things. There are a lot more stressful jobs than ours, but definitely pay attention to your health."
While watching his team take batting practice from the home dugout before their game against the Indians on Monday, Wedge became suddenly ill and needed a player's help to retire to the clubhouse, where he was examined by team doctors. He spent the next two nights in the hospital while doctors performed a series of tests, before it was determined he had suffered from a mild stroke.
Jacob Thorpe is an associate reporter for MLB.com. This story was not subject to the approval of Major League Baseball or its clubs.