Mauer now expected to return on Tuesday
Mauer now expected to return on Tuesday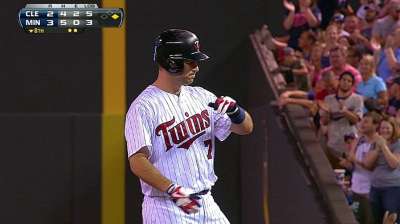 SEATTLE -- The Twins will be without their best player for a little longer, as Joe Mauer has decided to delay returning to the club after the birth of his twin girls until the team's series opener against Kansas City on Tuesday.
Since the league's rules regarding paternity leave require that Mauer return to the team on Saturday he will be placed on the restricted list and won't be paid for this weekend's games.
"It's all in the Collective Bargaining Agreement, he has to go on the restricted list," assistant general manager Rob Antony said. "He decided that's what he wanted to do and we support that. After Sunday we will take him off because he would be available if he were playing a game [on Monday] so we will take him off after Sunday's game."
The 30-year-old Mauer is hitting .324 with a .406 on-base percentage for Minnesota. Chris Herrmann and Drew Butera are filling in at catcher for the club in Mauer's absence. Designated hitter Ryan Doumit can also play the position in a pinch.
Antony said that the distance from Minnesota to Seattle, did not play a factor in Mauer's decision. The Twins are fully supportive of Mauer's decision to spend time with his newborns, and his wife, Maddie.
"It's totally what Joe needs to do with his family situation, that's always first," manager Ron Gardenhire said. "I stand behind him 100 percent on all his decisions and if he thinks he needs to be there, that's great. I'll never get on a person for taking care of his kids and his wife."
Jacob Thorpe is an associate reporter for MLB.com. This story was not subject to the approval of Major League Baseball or its clubs.