Twin papa: Mauer back after daughters' births
Twin papa: Mauer back after daughters' births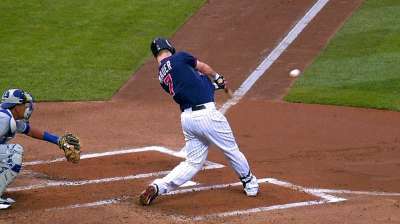 MINNEAPOLIS -- All-Star catcher and Joe Mauer returned to the Twins on Tuesday after missing the previous six games to attend the birth of his twin daughters, Emily and Maren.
Mauer, who left the Twins in Anaheim on Wednesday, was officially activated from the restricted list on Monday and was back in the lineup batting third against the Royals on Tuesday.
Mauer wasted no time making an impact as he delivered an RBI single in his first at-bat and finished the night 2-for-4 in a 7-2 loss to the Royals.
"It's great to be back, but I also can't wait for after the game to see how the girls are doing," Mauer said before the game. "But it was fun for me to come to the clubhouse and see my teammates. The people in this organization have been great."
Mauer found out that his wife, Maddie, was going into labor shortly before Wednesday's game against the Angels and was able to charter a plane to Minnesota to make it just in time for the births of the couple's first children.
Mauer arrived in Minneapolis at 3 a.m. local time, and Maren was born at 3:44 a.m., while Emily followed two minutes later. Both weighed in at 4 pounds, 15 ounces.
"That day was crazy -- it felt straight out of a movie," Mauer said. "I ended up getting on a plane and getting back 40 minutes before they were born. So it was good timing and I'm glad I was able to experience that."
Mauer added that the twins are both still in the hospital, as they were born about five weeks premature. But Mauer said that all is well with both Maddie and the girls.
"We're both very happy and very excited," Mauer said. "The girls and my girl, Maddie, are doing great. So it's just been a great week."
Rhett Bollinger is a reporter for MLB.com. Read his blog, Bollinger Beat, and follow him on Twitter @RhettBollinger. Kelly Erickson is an associate reporter for MLB.com. This story was not subject to the approval of Major League Baseball or its clubs.