Starters Correia, Pelfrey conspired to pinch-hit Friday
Starters Correia, Pelfrey conspired to pinch-hit Friday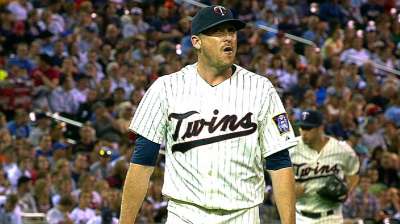 MINNEAPOLIS -- Twins manager Ron Gardenhire greeted former big league pitcher Steve Sparks with a wry grin in his office on Saturday afternoon, some 15 hours after one of the strangest games of Gardenhire's managing career.
"Did you think you were going to have to pitch last night? Come out of that booth and throw some knuckleballs?" Gardenhire asked the Astros radio broadcaster.
Both men had a good chuckle about the idea of Sparks un-retiring during the Twins' 13-inning victory over the Astros on Friday night. Then Gardenhire added a line that probably contained more truth than humor.
"My whole pitching staff didn't care about pitching -- all they wanted to do was hit."
The Twins lost their designated hitter position when Doug Bernier pinch-ran for Chris Colabello in the ninth inning and stayed in the game at shortstop. That led to some hilarity in the Twins' dugout as pitchers Kevin Correia, Mike Pelfrey and Kyle Gibson conspired to get into the game as pinch-hitters when the DH spot came around again in the order.
Brian Dozier, who drove in the winning run with a single in the 13th, wasn't surprised at their enthusiasm to join the fray.
"Pitchers always think they can hit," Dozier said with a smirk. "That's fun stuff."
The humor, Gardenhire said, came as the pitchers -- who normally have the night off when they're not starting -- scrambled to prove their readiness to help the team.
"It became entertaining, because Pelfrey had to put his contacts in, and they all had to go put their spikes on," Gardenhire said of the antics in the dugout. "I look up at one point -- and don't tell Mr. Ryan this, but Gibby is throwing soft-toss to Pelfrey in the cage and hiding behind it. And that's our starting pitcher [Saturday]. So there was a lot of [stuff] happening."
It turned out their preparation paid off in the pivotal 13th inning. With one out and Clete Thomas at the plate, Gardenhire sent Pelfrey into the on-deck circle. Had Thomas been retired, Pelfrey would have been the pick to pinch-hit, but Thomas drew a walk, so Correia was sent up to drop down a sacrifice bunt.
The strategy worked, as Correia's perfect bunt advanced Thomas to second, and Dozier followed with the game-winning hit. After the game, Correia tried to deflect attention, but eventually admitted that he enjoyed playing an unexpected but key role in the victory.
"It's fun -- we don't get that opportunity anymore at the plate, being in the American League, but we're normally sitting there just as spectators four days a week, so it's fun to get in a game, especially if you can help your team get a win."
Correia spent 10 years in the National League and dropped down 41 sacrifice bunts before joining the Twins, but he's yet to hit his first career home run. Pelfrey hasn't homered either, despite playing seven years in the NL with the Mets, but at 6-foot-7, he's apparently a more intimidating presence in the on-deck circle.
"I took my biggest pitcher and put him out on deck just to kind of put fear into them," Gardenhire said. "He was going to hit and Correia was the bunter. If we didn't get anybody on, Pelf was going to go up and try to go deep, basically is what he told me."
After one last chuckle, Gardenhire summarized the absurdity of the situation.
"We were just happy we had a helmet his size."
Patrick Donnelly is a contributor to MLB.com. This story was not subject to the approval of Major League Baseball or its clubs.