Swarzak excelling for Twins in unglamorous role
Swarzak excelling for Twins in unglamorous role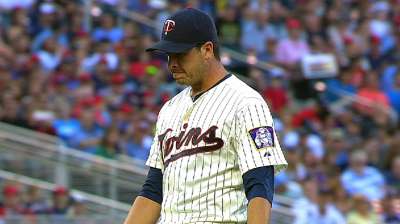 MINNEAPOLIS -- Anthony Swarzak has been one of the Twins' most valuable pitchers in 2013, though he is currently holding down a role long relegated to the 25th man on the roster.
In traditional baseball terms, the "long reliever" is the least valuable pitcher on the team. It is a role often held by struggling veteran starters trying to regain their confidence, or wet-behind-the-ears rookies getting their first taste of Major League action.
But Swarzak has used that spot in the bullpen to give the Twins more than 70 innings of valuable relief. Saturday night's 6-4 win over Houston was made possible in large part by Swarzak's three no-hit innings that kept the Astros at bay after Kyle Gibson was knocked out after the third.
With a 3.06 ERA and 1.15 WHIP, Swarzak has kept the Twins in numerous ballgames that might otherwise have gotten out of hand in a hurry, giving the offense time to rally for a come-from-behind victory. But even though a successful long reliever often "graduates" to the starting rotation, Twins manager Ron Gardenhire said after Saturday's game that Swarzak was pitching too well to give him that chance.
"He's so valuable at what he's doing right now that we're going to probably try to leave him right there," Gardenhire said. "That guy's really throwing the ball well for us. A lot of times when a guy is doing that you leave him right where he's at because he's eating up huge innings for us. And he's just as valuable there because we can use him two or three times a week and eat up those innings just like [if he were] starting."
Swarzak has made 28 career starts since his debut with the Twins in 2009, going 6-17 with a 5.79 ERA. But although he said he embraces his role in the bullpen, he has not given up on his dream of being a Major League starting pitcher.
"I would love the opportunity to start -- I will never let that go," Swarzak said after Saturday's game. "Maybe I should for my own good, but as of right now I would love the opportunity to grab the ball every five days and give my team a chance to win. I'm confident in my stuff right now that I could be an effective starter at the Major League level. Absolutely."
For now, however, he will remain in the bullpen, with lefty Andrew Albers set to make his Major League debut in Kansas City on Tuesday. Even with a doubleheader scheduled for Friday in Chicago, Gardenhire said the team would call up a pitcher to start one of the games and keep Swarzak in his current role.
Patrick Donnelly is a contributor to MLB.com. This story was not subject to the approval of Major League Baseball or its clubs.