Gardenhire favors expanded replay minus challenges
Gardenhire favors expanded replay minus challenges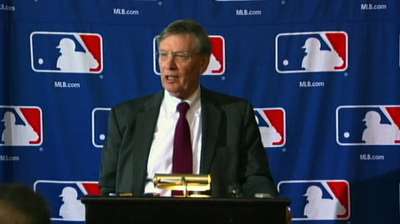 MINNEAPOLIS -- Twins manager Ron Gardenhire said he's in favor of Major League Baseball expanding instant replay in 2014, but questioned the new challenge system that would be put in place.
Under the new guidelines presented by MLB vice president Joe Torre to all 30 clubs on the last day of the Owners Meetings on Thursday, managers will have a much more active role in instant replay next year. But those changes still have to be voted on in the next Owners Meeting in December and will also need approval from the Players Union and umpires.
The proposed changes would allow managers to inform the umpire they want to challenge a call that doesn't involve balls or strikes. Managers will be allowed one challenge in the first six innings and two more from the seventh through the end of the game. If the manager wins the appeal, they get to keep the challenge but the challenge from the first six innings does not carry over. The current system of reviewing boundary calls for home runs will remain in place.
Gardenhire, however, said he'd prefer to see a system that has an extra umpire at the ballpark to review all calls, because he believes it would help the pace of the game and allow all calls to be properly reviewed. Under the new system, all replays will be reviewed by umpires at MLB.com headquarters in New York.
"I've said all along they should have a guy in the booth with a replay set right in front of him and he signals yes or no," Gardenhire said. "I've always thought that's the quickest way to do it. I know they've talked about it being too expensive to have another person up there, but they have people all around watching umpires anyway. So why not give them a monitor and make a decision quick instead of them having to run off the field."
Gardenhire pointed to the fact that if managers don't have any challenges left, incorrect calls could be made at critical junctures late in games. He also said the new system does nothing to improve ball and strike calls.
"That gets more arguments than anything -- balls and strikes," Gardenhire said. "And that's because umpires are given a zone where they have to call balls and strikes in. And that's the toughest part of the game for them, too, because they have to call these strikes."
Twins general manager Terry Ryan, who is a member of MLB's Playing Rules Committee, said he understands Gardenhire's concerns, but said MLB is doing its best based on the opinions of many in baseball.
"I think the important thing is we're going to try," Ryan said. "We have the technology."
Rhett Bollinger is a reporter for MLB.com. Read his blog, Bollinger Beat, and follow him on Twitter @RhettBollinger. This story was not subject to the approval of Major League Baseball or its clubs.