Mauer lands on DL with concussion-like symptoms
Mauer lands on DL with concussion-like symptoms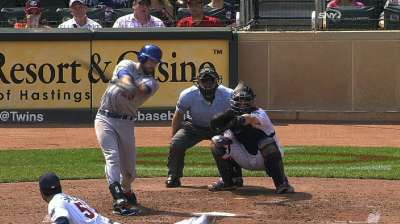 DETROIT -- The Twins will be without their All-Star catcher, as Joe Mauer was placed on the seven-day disabled list with concussion-like symptoms after Tuesday's win over the Tigers.
Mauer was a late scratch from the lineup after experiencing dizziness during batting practice. To fill Mauer's spot on the roster, Minnesota recalled first baseman/outfielder Chris Colabello from Triple-A Rochester.
"The Detroit doctor examined him and did some tests and found he had some concussion-like symptoms," Twins assistant general manager Rob Antony said. "For him, it was mainly he felt dizzy and out of sorts. He did the baseline test and they were pretty certain he had the symptoms of a possible concussion. The doctor felt like he should he go on the seven-day DL, and we agreed with that."
Mauer is expected to remain at the team hotel on Wednesday. If he feels well enough, he'll fly back to Minnesota on Thursday. One good sign is that he didn't feel sick while flying to Detroit with the team, which was something that bothered both Ryan Doumit and Wilkin Ramirez before they were both placed on the concussion DL earlier this year.
But Mauer came in with a minor bruise on his forehead after taking a foul tip to the facemask with Mets first baseman Ike Davis at the plate in the seventh inning of Monday's 6-1 loss.
Mauer was slated to start at first base with Justin Morneau at designated hitter, but Morneau shifted back to first with Mauer out of the lineup. Josh Willingham moved from left field to DH while Wilkin Ramirez made the start in left field.
"He said his forehead was sore from a couple whacks, but when he got out there he didn't feel too awful hot so we had him checked out," Twins manager Ron Gardenhire said. "I'm glad we found out before the game, instead of during the game, to protect him."
Twins first baseman Justin Morneau, who is no stranger to concussions after suffering one in July 2011 that ended his season, said he could tell something was wrong when Mauer missed a few grounders at first during batting practice. His advice to his longtime teammate was to play it smart.
"I think it's for the best," Morneau said. "The worst thing that can happen when you have a concussion is to do something unintelligent and not tell anyone and suffer another one and be out a while. The last thing you want to see is somebody that good miss a lot of time."
Mauer has been durable this year, as he ranks second on the team in games played with 113 -- including 73 starts behind the plate. His only significant time missed came when he missed seven games due to the birth of his twin girls in late July.
Rhett Bollinger is a reporter for MLB.com. Read his blog, Bollinger Beat, and follow him on Twitter @RhettBollinger. This story was not subject to the approval of Major League Baseball or its clubs.