Twins place Willingham on waivers
Twins place Willingham on waivers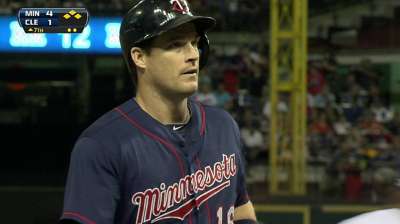 MINNEAPOLIS -- The Twins placed left fielder Josh Willingham on revocable waivers, a Major League source confirmed on Tuesday.
Willingham is the second prominent Twins player to be placed on waivers this month, after first baseman Justin Morneau cleared waivers in mid-August.
But the key difference is that Willingham still has another year on his contract, while Morneau's deal expires after the season. Willingham, who is hitting .214/.348/.393 with 12 homers in 87 games this season, is set to make $7 million next year as part of a three-year, $21 million deal signed before the 2011 season.
Twins manager Ron Gardenhire said it will be business as usual for his club despite the news of Willingham being on waivers. Willingham was in the lineup on Tuesday against the Royals, batting cleanup and starting in left field.
"I don't think every player who has been through [waivers] has been tweeted, but that's just the way it is now," Gardenhire said. "People find out. I'd imagine most of our players have been through waivers. You read about names like that and I don't know how they get out there, but they do."
If Willingham is claimed by a team, the two clubs will have 48 hours to work out a deal. But the Twins also could decide to let the claiming team take Willingham and the rest of his contract without a return, or pull him back off waivers, which means he wouldn't be able to be traded to any team. If he clears waivers like Morneau, he can be traded to any club.
"If you're looking for a right-handed bat who can put one in the seats, then Willingham would definitely be one of those guys," Gardenhire said. "He's healthy. Even though he's not swinging the bat well now, if you put him in a different atmosphere, he might take off and that's what everyone is looking for -- someone to put them over the top."
Rhett Bollinger is a reporter for MLB.com. Read his blog, Bollinger Beat, and follow him on Twitter @RhettBollinger. Kelly Erickson is an associate reporter for MLB.com. This story was not subject to the approval of Major League Baseball or its clubs.