Still no timetable for Mauer's return
Still no timetable for Mauer's return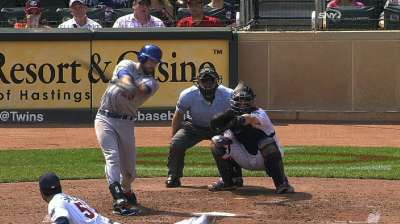 MINNEAPOLIS -- While Joe Mauer told manager Ron Gardenhire he's starting to feel a little better on Tuesday, there's still no timetable as to when the All-Star catcher will return to the lineup.
Mauer was placed on the 7-day disabled list with a concussion after he was a late scratch prior to the Twins' Aug. 20 game at Detroit, due to dizziness in batting practice. The concussion occurred after Mauer took an Ike Davis foul tip off his mask during a makeup game with the Mets on Aug. 19.
"We just have to wait and see," Gardenhire said. "I don't have a timetable. He came in today and says he feels actually pretty decent. He's had some rough days at home. ... He's getting better and it's just going to take time here."
According to Twins general manager Terry Ryan, there is no plan to shut Mauer down for the season.
"There's no thought of that," Ryan said. "We'll just wait for him to recover and get him going."
Gardenhire noted it will be a process when the trainers do finally clear Mauer to play. Once he's determined to be healthy enough to return, the Twins skipper said the team have to talk with Mauer and decide where best to play him -- at catcher, first base or filling in as the designated hitter.
Rhett Bollinger is a reporter for MLB.com. Read his blog, Bollinger Beat, and follow him on Twitter @RhettBollinger. Kelly Erickson is an associate reporter for MLB.com. This story was not subject to the approval of Major League Baseball or its clubs.