Colabello making most of latest big league stint
Colabello making most of latest big league stint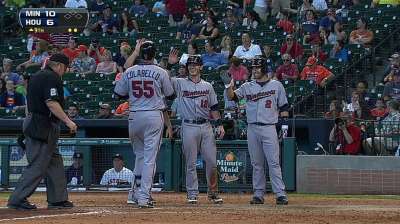 HOUSTON -- Chris Colabello, who won the International League Rookie of the Year Award and the Most Valuable Player Award, had a career day on Monday. The Twins infielder/outfielder hit a game-winning grand slam in the ninth inning of the series opener vs. the Astros.
Colabello became the first player in the history of the franchise -- since 1901 -- to hit two homers in a game, including a go-ahead grand slam in the ninth inning or later.
On the other side of the coin, Colabello went 0-for-4 in his Major League debut on May 22 and didn't get his first hit until three days later. He entered Wednesday's finale hitting .202 in 38 games this season for the Twins.
"It's an ongoing battle for a person who hasn't been up here for any length of time," manager Ron Gardenhire said. "Basically, it gets back to doing what got you here to be successful, but also being able to make a few adjustments to what they're trying to do to you, too."
Colabello has had his ups and downs in the field, as well, sometimes on the same play. That was the case when he dropped a throw from second baseman Brian Dozier during a rundown on an attempted double steal in the seventh inning of Tuesday's 9-6, 12-inning win. But Colabello was able to make a clean pickup and throw home for the putout.
"Funny how things happen, sometimes," Colabello said. "I'm just glad everything worked out."
Colabello was called up Aug. 20 when Joe Mauer went down with concussion-like symptoms.
Glenn Sattell is a contributor to MLB.com. This story was not subject to the approval of Major League Baseball or its clubs.