Trio of callups make season debuts for Twins
Trio of callups make season debuts for Twins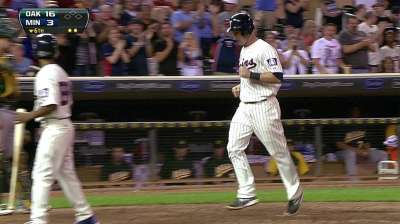 MINNEAPOLIS -- One of the only positives of Wednesday's 18-3 loss to the A's was that it allowed for several September callups to make their season debuts for the Twins.
Catcher Eric Fryer had the most memorable debut, as he homered in his first at-bat in the sixth inning. It was also the 28-year-old's first career big league homer in 17 games, including 16 with the Pirates over the previous two seasons.
"The game was out of hand, but it felt good," Fryer said. "It's a big yard. I didn't know if it would get up or get out. It was fantastic."
Right-hander Shairon Martis also made a good impression, throwing a scoreless inning with two strikeouts. But right-hander Cole De Vries gave up three runs in his first three innings of work on the season.
Twins manager Ron Gardenhire said he wants to see more of Martis, who pitched for the Netherlands in the World Baseball Classic and had a 4.26 ERA at Triple-A Rochester, while De Vries remains a candidate to join the rotation in case the Twins decide to shut down Mike Pelfrey or Andrew Albers early.
"Martis threw very good," Gardenhire said. "We want to see him pitch. He came in highly recommended by our Triple-A staff. … It was nice to see him get into the ballgame yesterday and see how he handled it. He had a nice fastball and a good slider. So we'll get him some work."
Rhett Bollinger is a reporter for MLB.com. Read his blog, Bollinger Beat, and follow him on Twitter @RhettBollinger. This story was not subject to the approval of Major League Baseball or its clubs.