Gardy planning to keep Pelfrey in rotation
Gardy planning to keep Pelfrey in rotation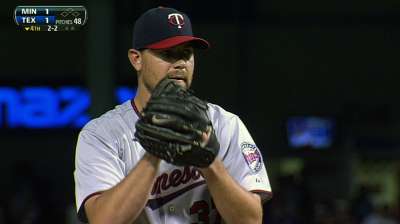 MINNEAPOLIS -- Twins manager Ron Gardenhire said Mike Pelfrey will remain in the rotation despite his recent struggles.
The Twins have been monitoring Pelfrey's workload down the stretch, as he's coming off Tommy John surgery. The right-hander has thrown 142 1/3 innings in 27 starts with the Twins this season after throwing just 19 2/3 last year with the Mets before undergoing elbow surgery on May 1, 2012.
Pelfrey was solid in August with a 3.60 ERA in six starts, but he has posted a 12.00 ERA in two September starts, including giving up seven runs on eight hits over just three-plus innings in Wednesday's 18-3 loss to the A's.
"He's in the rotation right now," Gardenhire said. "We'll talk to him and sit down, but his plans are to stay in the rotation. So we'll see how it goes from there. We'll just gauge him performance by performance. Last night wasn't much, but he obviously didn't use up many innings."
Pelfrey said he wants to remain in the rotation, adding that he's felt fine physically despite his troubles so far in September.
Pelfrey, who is making $4 million this year, also has monetary incentives at stake, as he's due a $100,000 bonus if he throws 150 innings and another $150,000 if he reaches 160 innings. But he said his reasons for wanting to stay in the rotation have more to do with finishing the year strong than reaching his incentives.
"I would like to finish the season," Pelfrey said. "I always take pride in taking the ball every fifth day. Whatever I end up getting to is what I end up getting to."
Rhett Bollinger is a reporter for MLB.com. Read his blog, Bollinger Beat, and follow him on Twitter @RhettBollinger. This story was not subject to the approval of Major League Baseball or its clubs.