Six-man rotation gives arms necessary rest
Six-man rotation gives arms necessary rest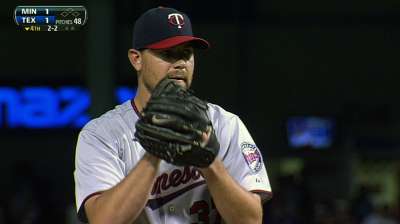 MINNEAPOLIS -- Scott Diamond officially joined the rotation with his start against the A's on Thursday, and the Twins are expected to go with a six-man rotation for the rest of the way.
As a result, right-hander Kevin Correia started against the Rays on Friday with an extra day of rest.
Twins manager Ron Gardenhire especially likes the idea because of the extra rest it provides to players such as Mike Pelfrey and Andrew Albers, who are having their innings monitored down the stretch.
Pelfrey is coming off Tommy John surgery, while Albers has already thrown a career-high 178 innings between Triple-A Rochester and Minnesota. Albers has fared much better on long rest, with a 0.57 ERA in four starts on five-plus days of rest compared to a 9.42 ERA on the normal four days of rest. Pelfrey has also had more success with more rest, as he has a 6.20 ERA on normal rest and a 4.65 ERA on five-plus days of rest.
"It should help," Gardenhire said. "These guys have a lot of innings for the most part. And we want to see Scottie pitch. And this helps us with Albers and Pelfrey. We're talking about innings with these guys, so it helps to give them an extra day and see how they respond."
Gardenhire added he doesn't have a target shutdown date for either Albers or Pelfrey. Right-hander Cole De Vries remains the club's top option to join the rotation if the Twins do decide to replace one of their starters.
"We're just playing it day by day," Gardenhire said. "We're not ready to say they'll be shut down after this one or that one. We just want to see how they do."
Rhett Bollinger is a reporter for MLB.com. Read his blog, Bollinger Beat, and follow him on Twitter @RhettBollinger. This story was not subject to the approval of Major League Baseball or its clubs.