De Vries returns to rotation for road finale
De Vries returns to rotation for road finale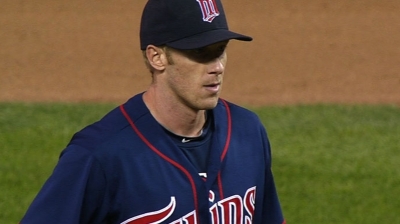 OAKLAND -- Perhaps the circumstances aren't as ideal as manager Ron Gardenhire would've liked, but Cole De Vries was named Minnesota's starter for Sunday's series finale against the A's -- the Twins' final road game of the year.
De Vries was set to be a part of Minnesota's rotation to open the year but has battled through a right forearm strain. He replaces Liam Hendriks, who turned in the worst outing by a Twins pitcher this season in his last outing, giving up seven runs in the first inning of a 12-1 loss to the White Sox on Monday.
Hendriks recorded just two outs against five hits and three walks while throwing 41 pitches. It marked the first time the Twins gave up seven runs in a first inning since July 28, 1997, against the Royals.
"The whole reason to start Cole is somebody had to do bad, and I'm not really excited about the guy who did bad," Gardenhire said. "It'll be nice to see Cole go out there and take the mound again. He pitched pretty well for us last year in some big games against some good teams.
"It'll be interesting to see how he does out there as a starter and gets through this thing, but on the flipside of it, I was hoping that Hendricks would take off and show us a little something. It didn't work out, so we'll make that adjustment right now, but there's a good chance there might be more adjustments as we go along."
De Vries posted a 4.11 ERA in 17 appearances (16 starts) with the Twins last year. He has yet to start in 2013 and has pitched in just two games with the Twins. He was 4-6 with a 4.96 ERA in the Minor Leagues this year.
"With what he had done the year before, you'd hope that he'd take off and see what he could do anyway," Gardenhire said. "He knows how to change speeds and move ball in and out. We wanted to see that. He was doing well in the job, but then injuries happened. If he wants to start, he's going to get his opportunity."
Jeff Kirshman is an associate reporter for MLB.com. This story was not subject to the approval of Major League Baseball or its clubs.